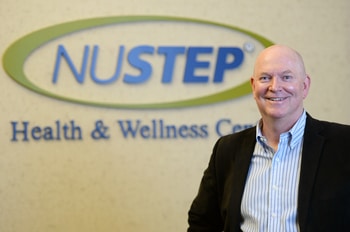 CEO Powercast Episode 5 Uncovers the Truth to Hiring the Right People and Interviews a Made in America Icon
Top business podcast reveals tips for hiring dedicated employees and NuStep Sales & Marketing VP Steve Sarns talks transforming a family business into big business.
CEO Powercast co-hosts Charlie Fusco and Evan Morgenstein cut loose in the latest episode of their new business podcast, CEO Powercast, available via http://www.ceopowercast.podbean.com and iTunes. This week, they give away tips for hiring dedicated employees and argue the impact of Puma's latest hire in celebrity spokespeople Rihanna and Kylie Jenner. The duo also shares which songs they use to motivate employees around the office!
NuStep Sales and Marketing Vice President Steve Sarns was interviewed for Episode 5 discussing a number of topics highlighting the importance of a solid company foundation. NuStep is a brand dedicated to transforming lives one step at a time through exercise. During the interview, Sarns talked about the close-knit nature of a family business and how entrepreneurs can replicate that same commitment and dedication to customers and co-workers on a larger scale. He also touched on why he decided to keep his manufacturing in the United States.
Perhaps the hottest topic of the episode is Puma's decision to embrace pop culture stars as brand ambassadors and sign hip hop diva Rihanna and reality TV star Kylie Jenner. After years working firsthand with celebrities on multi-million-dollar endorsement deals, Morgenstein is convinced Puma will be able to tap into a fan base full of millennials driving the purchasing decisions in athleisure with help from their new celebrity influencers.
"I even learned something on the podcast this episode," said Fusco. "Evan made a point about celebrity and PR that I think is a lifesaver for any serious business person. A million dollar business model. I hate that I didn't think of this first!"
Listen to Episode 5 of CEO Powercast now available at http://www.ceopowercast.podbean.com or subscribe to the podcast on iTunes to automatically receive new episodes to your phone, tablet or PC.