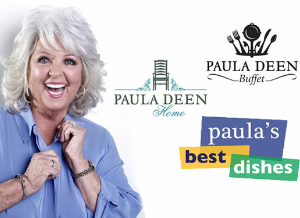 Can Celebrity Chef Paula Deen Revive Her Career?
In the world of 24/7 PC media, Celebrity Chef Paula Deen stepped herself into a cave that most felt she would never get out of.  Well, that is excluding the private equity firm Najafi Cos. headed by billionaire Jahm Najafi of BMG Music Service and the Book-of-the-Month Club fame. With the rise of subscribers to Paula Deen's Magazine by 40% and an increase in sales of her Springer Mountain Chicken by 35% there is definitely a feeling that Ms. Deen is having something of a comeback.  It's been widely reported that Paula Deen is negotiating a TV show.  Scripps' Food Network denies they are considering or negotiating with Ms. Deen.  It's hard to believe a network would sign on, but in reality, it is very likely that a cable channel would. The Celebrity Chef cooking genre continues to be hot.
It's thought that with the "controversy" surrounding Phil Robertson's conservative views of homosexuals and the backlash from their fans as an example against Cracker Barrel for removing Duck Dynasty products from the shelves, the timing could be right for all of those millions of Paula Deen fans to come out of hiding and start publicly supporting her and buying her products again.  Ms. Deen has started Paula Deen Ventures in a complete reversal of her licensed model of the past. Similar to what Emeril Lagasse is doing with Martha Stewart, Deen's Paula Deen Ventures, along with Najafi Cos, will invest in building their own products and distribution vs. licensing to others.
Mr. Najifi sees the investment in Paula Deen Ventures as a minimal risk. She has huge global name recognition, she has apologized for making racist comments and her fan base is entrenched in their love for her easy country comfort lifestyle and recipes.  So could we see the Paula Deen brand bigger and better than ever?  It's hard to see without a sizeable TV platform.  Social media has been good for Paula Deen to stay in touch with her fan base but in order for the Paula Deen Ventures to be a good investment, she must not only get back that sizeable audience she lost but grow beyond that.  Will she always be stained by her use of the "N" word?  Only time will tell but for now, expect to see a lot more of Ms. Deen in 2014 and beyond.