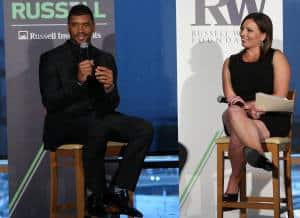 NFL Star Fights Domestic Violence
Superbowl MVP Russell Wilson Creates Non-Profit To Assist Domestic Violence Victims!
We have entered into a time where most NFL athletes, in fact most pro athletes, are shying away from this powder keg of a topic after the Ray Rice and Greg Hardy arrests for domestic violence against their significant others. However, Superbowl MVP quarterback Russell Wilson from the Seattle Seahawks has decided to take a stand.
Wilson, who has done everything the right way since entering the NFL first challenged two of his friends, iconic athlete Derek Jeter and singer Justin Timberlake to be involved, donate money and spread the word against domestic violence in an effort to #PassthePeace. Each day Russell has challenged new celebrity friends and the launch of this program coincides with National Domestic Violence Month creating maximum impact. Wilson has partnered with the National Domestic Violence Hotline, a 501 C 3 non-profit to hopefully raise awareness and money to fund increased services to assist victims of domestic violence.
Russell Wilson, a leader on and off the field shot this YouTube video to share his commitment to the cause:  click here. Russell Wilson has launched the "Pass the Peace" campaign through his Why Not You Foundation to raise funds for the National Domestic Violence Hotline (The Hotline). Wilson has be red hot in the eyes of marketers and advertisers inking deals with Nike, Braun, Alaska Airlines, Microsoft and Bose among others. This high profile campaign will only make Wilson more relatable to potential corporate partners because very few male athletes have crossed over to become a highly influential spokesperson for women and moms 25-45 years old.
If your company, brand, product or organization is considering utilizing a celebrity to highlight what you are doing, contact CelebExperts and receive world-class corporate consulting on the topics of Celebrity acquisition, vetting the Talent, budget requirements to secure a Celebrity, and other topics involving celebrity talent acquisition. Email our team at consulting@celebexperts.com or give us a call at (919)459-5426.