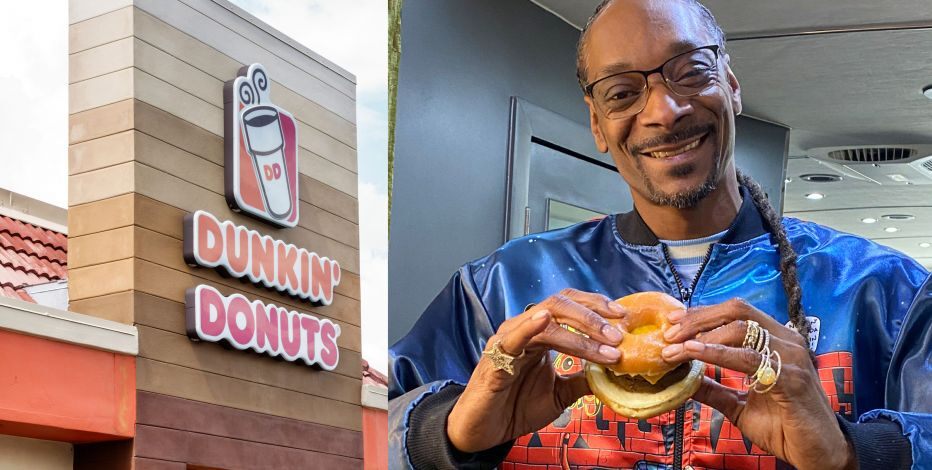 Snoop Dogg remixes with Dunkin' Donuts
Dunkin's new Beyond Sausage Sandwich has hit the TV screens and media harder than ever. The collaboration is named Launch of the Beyond Collection by Dunkin' x Snoop, where Dunkin' is inviting all guests to try samples of the Beyond Sausage Sandwich at their restaurants nationwide on January 24 and 25. Inspired by Snoop Dogg's diet of plant based protein, Dunkin' and Snoop have come together to create a limited time only spin on the Beyond Sausage Sandwich. The brand new, exclusive Beyond D-O-Double G Sandwich will be available for one week only, January 13 through 19. This Snoop inspired sandwich is made up of a Beyond Breakfast Sausage patty, egg, cheese, served on a sliced glazed donut. For all meat-free, donut-loving people, this may just be the best to hit the market yet.
Meat Free Celebrities
With this new collection comes all the buzz about meat-free celebrities and who says what on the topic. Many celebrities have gone vegan or vegetarian for many different reasons. Common reasons for cutting meat out of a diet include issues surrounding animal cruelty, helping the environment, health concerns, or a personal choice. Some celebrities have shared why they went meat-free.
Serena Williams went vegan and cut out sugar while breastfeeding her daughter Olympia. Kate Winslet is a vegetarian and an active advocate for foie gras cruelty, which is duck or goose. Chloe Grace Moretz went vegan last year and claimed it was one of the best decisions she ever made. She also tweeted that she is dairy-free, but still eats fish. Portia de Rossi revealed in O, The Oprah Magazine, that she considered eating meat to be necessary in life, but then she had an eye opening experience with animals that lead her to change her diet.  Drew Barrymore has been a long time vegetarian and has stood up for animal cruelty. Her line of cosmetics is cruelty-free and while filming her new Netflix comedy Santa Clarita Diet, she refused to allow any real meat on set.
Madonna claims that the secret to her youthful appearance is to exercise regularly and stick to a strict vegan macrobiotic diet. Betty White has been a lover of animals for the entirety of her life, she says that she could never eat an animal that she would consider a best friend. She is an active supporter of the Farm Animal Reform Movement and Friends of Animals group, she also claims that not eating red meat is her trick to youthfulness. Ellen DeGeneres is no longer vegan, but in her Netflix stand-up Relatable she states, "I'm not really vegan, I say it for the joke… I was vegan for eight years and I really believe that it's great for you." Many stars have a vegan or vegetarian background, or have recently cut out meat for various reasons.
Meat Free Films
Last year, a documentary aired on Netflix called The Game Changers, which was all about the science behind eating meat. This documentary caused a ton of buzz on media about whether cutting out meat is really healthy or not. The film, produced by James Cameron, Arnold Scharzenegger, and other major stars, claims that a plant-based diet is the best way to live. The film bases its statistics and experiments on real life athletes, as they put out the most energy in a day to day basis. It claims that switching to a plant-based diet can lead to significant performance advantages including increasing blood flow, providing energy, making muscles more efficient, and lowering inflammation, which speeds up recovery of the muscles.
In one experiment shown in the film, three NFL players were given different meals and then took a sample of their blood. This experiment was to show which diet would lead to thicker blood. The animal-based diet was proven to quickly thicken blood, which in turn slows down the flow of oxygen and the nutrients that blood transports to the areas of muscle that need it most during exercise. Plant-based diets do the opposite, as the blood is thinner, so it transports nutrients quickly. Many statistics and research is shown throughout the film, including one that speaks of death rates in the United States. It states, "The Global Burden of Disease Study, the largest study of risk factors for disease in history, concluded that the number one cause of premature death in the United States, and the number one cause of disability, is the standard American diet."
Being a vegan, vegetarian, pescatarian, or any form of meatless diet is becoming more common. While the choice of diet is completely an individual choice, it is helpful to have science shown about the health benefits of both eating animal products and cutting them out.