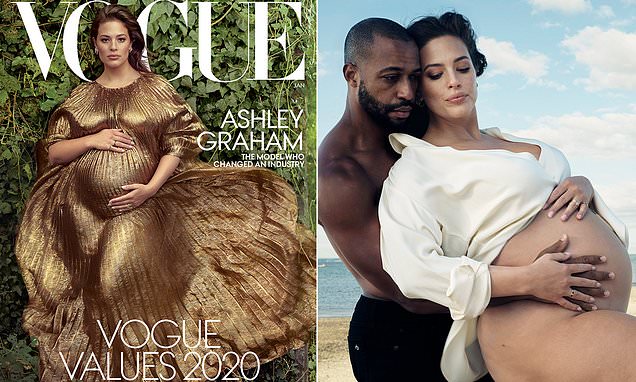 Ashley Graham takes body positive leadership to a new level with Vogue
Ashley Graham's Body Positive Mission Takes Off with Cover of Vogue
With the initiative of making the fashion industry more inclusive of all body types, Ashley Graham has become one of the hottest models in the industry
Ashley Graham describes herself as a model, designer, entrepreneur, and body activist. Within her recent work, she has proven herself to be successful in each and every one of these roles. In the past year, Ashley Graham has been featured on Elle, Harper's Bazaar Australia and UK, MOJEH Magazine, Allure, and topped the year off with the cover of Vogue. Graham began her career in modeling as a plus size model with a mission. She was determined to encourage all types of women to feel comfortable in their own skin. Graham has presented every stage of her life on social media, including her latest stages of marriage and pregnancy.
One of the biggest highlights of her career has been her feature in Sports Illustrated Swimwear Edition, where she was shown in a Swimsuits For All campaign. This feature later introduced Graham as the first plus size model to be shown on the cover of Sports Illustrated Swimsuit Edition. She has partnered with Swimsuits For All for the past five years and has launched many of her own lines of swimsuits with the company. In the past few weeks, she has launched two new lines titled "Ashley Graham Essentials" and "Ashley Graham Collection." This partnership is unique because both Graham and Swimsuits for All have a motive of empowering women of every shape and size. Speaking about her latest collection with the company, Graham states, "Pregnancy has given me a whole new appreciation for my body, and designing this collection allowed me to truly embrace my new curves and my beautiful baby bump in a swimsuit." Throughout the course of this partnership, Ashley Graham has taken swimwear to the new level and enhanced her body positive motive.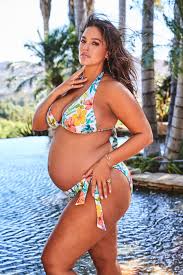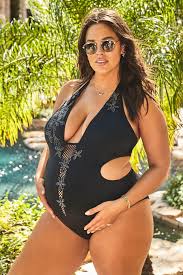 Graham has also recently partnered with wedding dress company Pronovias to launch a plus size wedding dress collection. The collection includes fifteen dresses and a tuxedo suit and was created with the intention of making women of all sizes feel like they found "the dress" without having to make a ton of altercations to the dress or outfit to make it fit. Vogue Magazine posted an article about the collaboration. Speaking about her own experiences, she states, "I had difficulty finding something that made me feel special, something that would flatter and celebrate my body on one of the most important days of my life. I'm a traditional girl and knew I wanted my gown to reflect that." To ensure that her new line would enhance the wedding dress experience for other women, she added new features to the traditional wedding dress. Each of the dresses has a built in bra and shape-wear to ensure that every woman feels supported and stress free on their big day.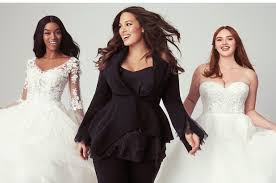 Within the past year, Ashley Graham has made her mark stronger than ever before. The model has also appeared on many talk shows in the past year, including The Late Late Show with James Corden, A Little Late with Lilly Singh, and hosted the second series of a beauty industry competition series called American Beauty Star. During her feature on The Ellen Show, she inspired a 19 year old to kick start her future. On the show, she states, "I am so grateful to be where I am today, but the path wasn't easy. Now, I am so honored to help others gain the confidence that they need to take the next step in their lives to be totally, unapologetically fearless." Graham gave the young entrepreneur a laptop, a mentor, and offered her an internship job in New York for a day. In every show that Graham speaks on, she inspires and uplifts others with her strong willed personality.
In 2019, Ashley Graham started the second series of episodes in her own podcast called Pretty Big Deal. This podcast was made with the intention to promote confidence and feature women who own their unique abilities in many different fields. Graham also premiered her new fitness series on Youtube called "Thank Bod" in late October, during her pregnancy. This series was formed to encourage others with her never give up attitude. Graham states, "We all have different health goals, and working out is all about strengthening yourself in healthy ways that you see fit. We are all worthy of feeling good." Graham started this series during her pregnancy, which shows her fans and followers that she is not only working out to better her body, but mainly to enhance her health and mentality.
At the end of the year, Ashley Graham was chosen to be shown on the cover the Vogue January 2020 issue. This is the first solo cover of Vogue that Graham has landed. Alongside the image, Graham wrote, "I have dreamed of this moment my entire career since I was a catalog model living in Nebraska two decades ago." In the issue, she also describes her pregnancy experience involving loneliness and uncontrollable feelings. She states, "I've always had control over my body-when everyone else wanted to dictate what it should be, I took full control over it-but I had this life inside of me saying 'It's not yours anymore, it's mine.' And you have to just succumb." Ashley Graham is not afraid to put her real, unedited self into the world by letting others know her struggles. Graham's realness is what her fans and followers look to for inspiration. The newest Vogue Cover has brought light on her experiences and amazing personality.