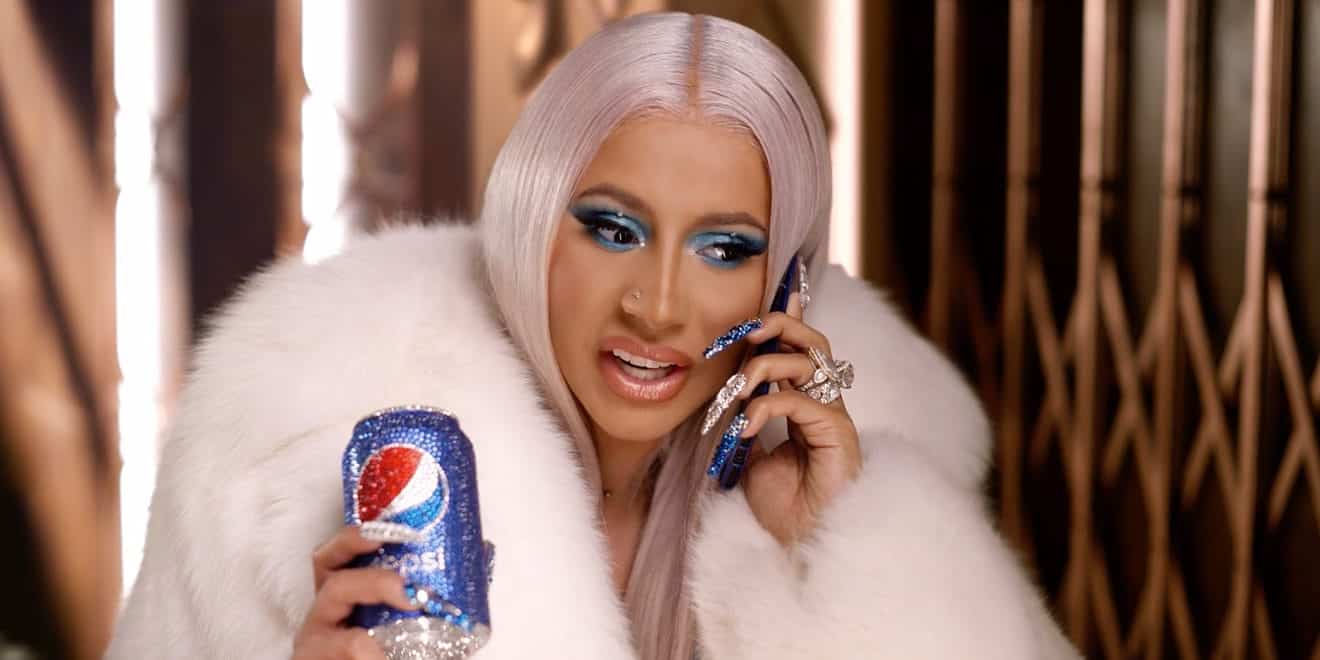 Cardi B reigns as Queen of advertising with new Pepsi Campaign
As the Holidays approach, Pepsi releases new ad campaign around their most popular new star, Cardi B
After releasing popular Super Bowl ads capitalizing on the rap star's widespread influence, Pepsi looks to cash in again with new Holiday ads
Cardi B has had an ascendance unlike any celebrity star in years. Starting her career as a dancer much like her role as depicted in the new comedy hit Hustlers, Cardi came from nothing and entered the entertainment scene with a charismatic dazzle that fans adored. As her hits rolled in, it was only natural that brands of all shapes and sizes flocked to her to be able to attach her name to their products. When it came down to it, some of the only brands big enough to gain the attention of the newfound megastar were major brands like Amazon, known for their celebrity endorsements, and most recently, Pepsi.
Coming off a year where the artist won a Grammy, among a plethora of other awards, Cardi B's star power has never been higher. The reason she is so popular isn't just her flashy outfits that dazzle fans and reporters alike on the various carpets, or her outspoken videos and pictures on social media, or even her highly publicized marriage with Migos rapper Offset. It is her undeniable and irresistible charm. The rapper's brutally honest personality has connected her with fans on a level that has not been tapped by hardly any celebrities in entertainment.
Whether it be her snapchat stories, or often infamous instagram live streams of behind the scenes looks at her life with baby Kulture, or a video of her accepting an award from the comfort of her own home in an outfit that is only fit for such an occasion. Regardless of the moment, Cardi B is the one that you want to tell the story, and brands know this as well. Not only does she connect with fans on a personal level, her influence is unquestioned. Being named to Time's Most influential People List in 2018, as well as their 25 Most Influential People on the Internet list this past summer, her stature in the minds of consumers is a commodity coveted by brands looking for the same pull.
When it comes to Pepsi, they have done a fantastic job utilizing both Cardi B's personality and star power in their line of ads over the course of their partnership. Pepsi kicked off their campaign with a  spot filled with stars, as they looked to compete with the Coca Cola owned Super Bowl in Atlanta this past February. The idea of the commercial was to stress how good Pepsi by talking it up is as voiced by Greg Lyons, the company's CMO for North American beverages.
The memorable slogan used by the commercial was "Is Pepsi OK?". And who better to use voice Pepsi's new slogan than the popstar known for her catchphrase "Okurr". Paired with celebrities Steve Carell and Lil Jon, another "okay" enthusiast, the commercial not only took the focus off Coke, but put the focus on Cardi B and Pepsi, perhaps foreshadowing the epic partnership that would unfold. The mere reaction on Twitter to Cardi B sitting at a table holding a Pepsi can while Steve Carell attempts to mimic her catchphrase created enough buzz to make the spot worthwhile. Fast-forward to November and Pepsi has tapped Cardi to bring back the magic for the holidays, prime time for advertisements.
Pepsi has most likely been planning on cashing in on the positive publicity they received ever since the Super Bowl and now was the time to strike. Their second spot featuring Cardi B was released at the end of November and will run again during the Macy's Thanksgiving Day Parade and through the holidays for their "Gift it Forward with Pepsi" holiday campaign. The commercial captured vintage Cardi, starting with a Christmas memory revealing she was on the naughty list. Cardi's vow to gift the world with money, even the most naughty is the crux of the ad, leading to the reveal of the big promotion which includes a code on Pepsi 12-packs that will award major cash prizes this holiday season. The promotion runs through the end of the year, so don't be surprised if Cardi B is the most recognizable celebrity on television by the end of the holiday season.
Looking at Pepsi's new ad, it is much more than just another promotion. Despite the incentive for cash prizes at a time of the year where anyone could use a little extra green in their pockets, the reason we will be buying Pepsi this year isn't because of the possibility for rewards. It is because Cardi B. Rather than just presenting a promotion with the hopes of getting people to make Pepsi their go-to party drink, Pepsi made Cardi B their Santa. Playing on Cardi's history by featuring the "Twerkshop" and "Wrap Studio" in their commercial, Pepsi was creating a brand message synonymous with their outspoken new star. Opting for a different approach than Coke's more family friendly holiday polar bears, Pepsi is certainly standing out. With their new twist on the holiday season, they have the most trending beverage on the market by far.
With Cardi B on top of the world, more and more brands are bound to hop on the bandwagon and enlist the Billboard breaking artist to promote their lines. Beyond Pepsi, Cardi has partnered with Tom Ford, Reebok, Fashion Nova and Rap Snacks, all resulting in widespread success. If more brands want some tips on how to make it work, they should look towards Pepsi's campaign, and see how the mega brand capitalized on her star power, to create a fresh new narrative around the most lucrative and influential times of the year, specifically this holiday season.