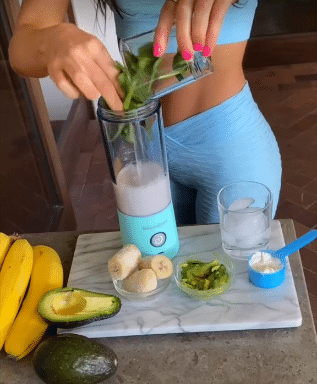 Why Your Drink Brand Needs to be on TikTok this Summer
#FitTok is looking to you to be the next healthy summer sip.
While the rest of TikTok experiments with mustard on watermelon and get their fill of pasta chips for the summer, there's an entire side of TikTok that is constantly creating wonderful healthy food and beverages.
FitTok is taking the world of summer drinks by storm.
For drink brands across the world, this is a crossroads: hop on board, or be left behind. Brands from coconut milk to club soda can find their rightful place in a refreshing summer drink with our personable and creative health & fitness influencers. Whether it be through yummy smoothies to make at home or easy sweet summer cocktails, our influencers will find the perfect way to introduce your brand to their audience.
Jen Selter is one of social media's best known influencers. In addition to her modeling career, workout videos and healthy recipes have collected a following of over 13 million across Instagram and TikTok. Her healthy recipes range from quick snack to using delicious smoothie ingredients to create the perfect summer blend.
In partnership with BlendJet, Jen recently created this healthy green smoothie recipe using fresh fruits & veggies, along with her favorite protein powder and BlendJet. The same video was also posted on her Instagram, collecting over 700k views for BlendJet.
Book Jen for your next campaign here. 
Ilana Muhlstein MS RDN is a licensed dietician whose content focuses on good eating, including easy recipes for great food and healthy beverages. Great ingredients like almond milk, frozen fruit, and other good smoothie ingredients are some of her favorite things to add to a great summer drink.
In a partnership with Nutpods, Ilana created this mocha frappuccino for a low calorie, healthy, fun summer drink to make. Her followers adored the sweet treat, and requested other recipes with the creamer. She happily obliged, and went to create a few more recipes on her Instagram story, including a mint chocolate chip version. What good-for-you drinks or healthy smoothies can Ilana create with your products?
Book Ilana for your next campaign here. 
Known as "that smoothie girl" on TikTok, Nicole is one of the most prolific food and drink influencers across social media. Like many on TikTok, Nicole has jumped on the trend of experimenting with the fruit in unexpected ways, and her awesome smoothie recipes have easily become smash hits.
In a partnership with Vita Coco Coconut Water, Nicole created a summer watermelon smoothie sure to hit the spot on a hot day. By using watermelon, a trending summer ingredient on TikTok, this natural partnership landed over 100k views, and made a big splash with the health and fitness community on the platform.
https://www.tiktok.com/@nicole_thenomad/video/6976332103030033669?lang=en&is_copy_url=1&is_from_webapp=v1
Book Nicole for your next campaign here. 
Amanda offers her followers simple and easy health-focused recipes to help them live a happy and full life, while taking advantage of all the healthy benefits of yummy food.
In a simple watermelon slushie recipe, Amanda created a quick cool summer drink, that fans were quick to point out was one dash of alcohol away from being a cold cocktail recipe. Whether fans kept with the simple and traditional recipe that Amanda shared or put their own twist on it with some white wine or lime juice and tequila to make it a margarita is up to them. Just don't forget the salted rim!
https://www.tiktok.com/@meowmeix/video/6977411190028832005?lang=en&is_copy_url=1&is_from_webapp=v1
Book Amanda for your next campaign here. 
Keywords: health benefits, lemon juice, maple syrup, simple syrup, banana smoothie, cold summer cocktails, drinks that are good for you, cool summer mixed drinks