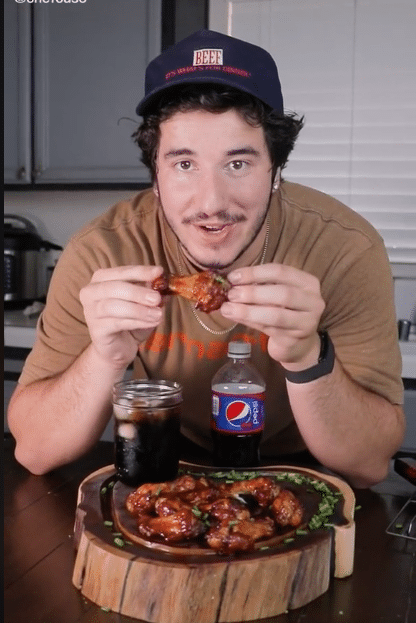 Pepsi Taps Jack Mancuso to Create Wild Cherry Pepsi Wings for National Chicken Wing Day
Fortune 500 mega-company Pepsi tapped Digital Renegade star, Chef Jack Mancuso, to create a specialty dish for National Chicken Wing Day. Chef Cuso, originally from Buffalo, New York, was a natural fit for this partnership, crafting a unique and unlikely flavor combination using a bottle of Cherry Pepsi to compliment his home town's claim to fame, buffalo sauce. Growing up living in New York, Jack Mancuso loved buffalo chicken wings, as most Americans do. Wings have always been known as the perfect food for hanging out with your friends and watching sports, which is timely as football season is right around the corner.
While his bio claims "NOT a chef, just a dude in his backyard," Jack Mancuso could easily fool us all. He's known for his amazing steak videos where he cooks up all kinds of delicious looking recipes, and his Pepsi recipe was no different. Even though he's known for his steak videos, these wings look to die for.
Chef Cuso came by his love for grilling authentically by starting out grilling for his college roommates (no arguments to be had from them!) after watching videos and tutorials online. His videos are entertaining, aesthetically pleasing, and his mouthwatering creations have helped him claim success on TikTok. At only 25 years old, he has already grown his following to 2.2 million followers, which is anything but surprising given his talent, infectious personality, and ability to make his viewers' stomach growl. While he doesn't have an "official" cooking background, he is easily the next social media Master Griller.
To Chef Cuso, the trick to cooking the perfect wings is by starting with smoking the wings on a grill and then deep frying them in a pan. He swears by this method, as it creates wings that are smoky and still perfectly crispy. For his partnership with Pepsi, he created his sauce by first melting butter in a pan and adding ginger. Then, he adds in a local buffalo sauce and Wild Cherry Pepsi. He cooks the wild cherry Pepsi, buffalo sauce, and ginger butter down into a glaze to create the perfect sauce. While cooking with soda might sound a little strange, it surprisingly isn't uncommon. People have been cooking with soda for years to create the perfect sweetness in your food while also keeping the center of the meat tender. The result? An unlikely combination becoming a star, and a recipe perfect for bone in or boneless wings during the first big game of the season.
To partner with Chef Cuso, get in touch with Christina Brennan at christina@celebexperts.com.
by Grayson Valente. Keywords: national wing day, pepsi on sale, products, diet pepsi, pepsi commercial, partner with pepsi, food and beverages, product information, united states, meat production, registered trademarks