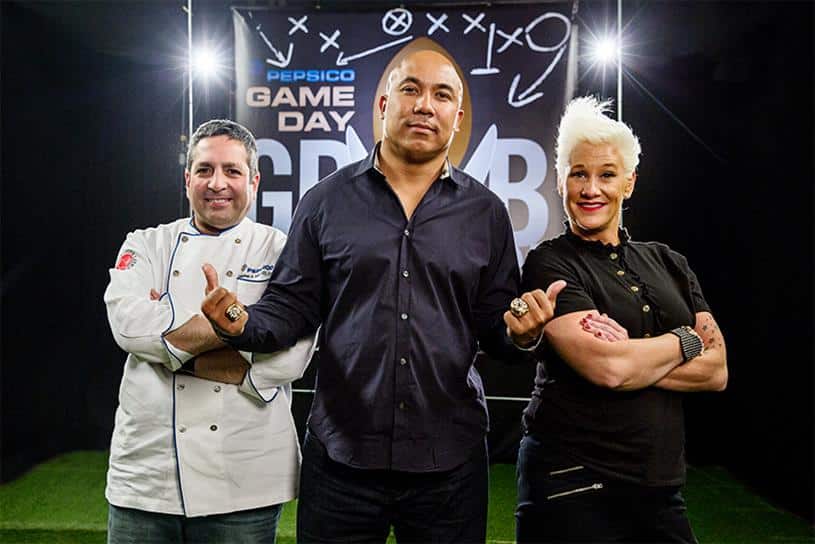 Tips and Tricks for Game day with Celebrity Chefs
Game day can be daunting when you have invited guests over, but have no idea what to make. Anne Burrell has shared her top game day tips and tricks to make this game day the best one yet! As a top chef on the market, Anne Burrell is the perfect celebrity to share her insight.
1. Plan Ahead
Planning ahead is the first step in a successful game day celebration. Burrell says, "Think, 'What can I do the day ahead? The day of?' Once you have that, you won't have to stress and everything will come out great and will be ready when people start to arrive." Have a plan for what you will make, when you need to start each dish, and when it will be finished.
2. Keep it Simple
Celebrity chef Anne Burrell states that sometimes, people get overambitious. In order to avoid getting overwhelmed on game day, focus on the simple things, such as chips and dip. Chips and dip is one of the easiest, most loved appetizers on game day. No need to have a fancy dish at all times!
Burrell says, "It's about knowing your audience, and again, thinking about how much time do I have to make this stuff."
3. Have Variety
Sometimes guests can get bored with only one appetizer or dish. Some easy appetizers on game day include vegetables and dip, meatballs, chicken wings, and chips and salsa. Keeping in mind your time frame, mix these small dishes up a bit!
Anne Burrell reassures, "You can get as fancy or laid-back as you need."
4. If all else fails, turn it into a potluck
Any gathering with many guests can be made fun with a potluck. It is not bad to ask others to bring their favorite dish! Burrell says that it's fun to engage your guests by inviting them to participate in the kitchen.
Chef Anne Burrell states, "It's a nice way to get everyone involved, and maybe invite a little friendly and healthy competition by having people pick the best dish."
Burrell added that a potluck also means less cleanup for the host, double win!
Some of the best dishes for game day are the quick, easy small dishes that we wish we could eat every day. Below are some other Celebrity Chef's favorites.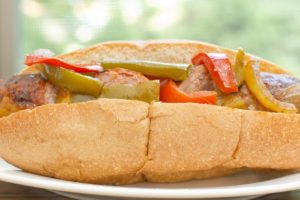 Rachael Ray's Sausage, Pepper, and Onion Hoagies
This signature sandwich could be the best game day centerpiece that your guests have had yet. Due to the Italian inspired combination, this dish will go well with just about any other small dish.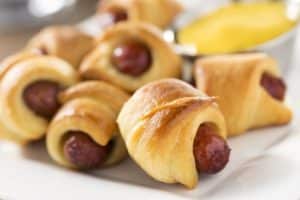 Guy Fieri's Spicy Pigs in Blankets
Spicy Pigs in Blankets is an original from "Diners, Drive-Ins and Dives" star Guy Fieri. This dish is sure to stand out, with it's spin on the simple pigs in blankets.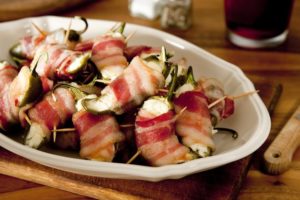 Sandra Lee's Grilled Jalapeño Poppers
As one of the most simple, mouth-watering dishes, this three ingredient small plate recipe is one your guests will love.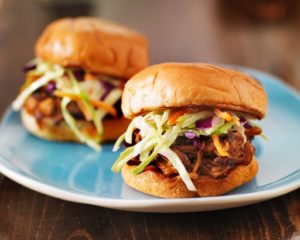 These asain inspired pork sliders are a unique spin on the classic slider. Your guests are bound to be amazed if you whip out this unique dish for a game day celebration.