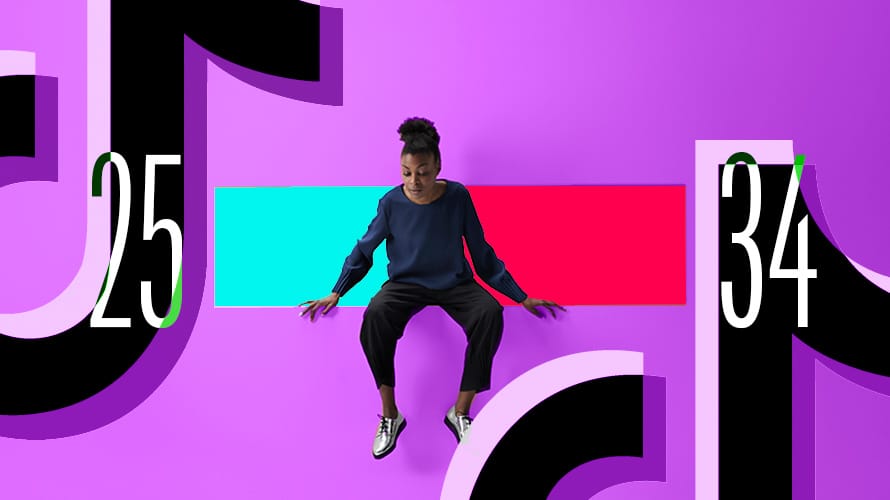 TikTok Is Growing Up, and So Are Its Users
More millennials are finding their way to the Gen Z-dominated app
Musical.ly first made a splash in The New York Times in August 2016, months before Donald Trump's presidency began and years before the Covid-19 pandemic was even a glimmer on the horizon.
At the time, Alex Zhu, co-founder of the Chinese app for user-generated short-form music videos, told the Times that China's "closed environment" was tough to break into—and he much preferred the American teen demographic, which he called a "golden audience."
It was also two years before Musical.ly merged with TikTok, forming the modern version of the app used by millions around the world every day.
In just a few short years, TikTok's popularity exploded among young people in America and around the world. But the coronavirus pandemic has expanded its user base, moving it further away from the teen contingent it's long offered to advertisers.
Quarantine has been good for business
TikTok does not release user data, but outside firms that analyze the platform's audience report its user base has grown substantially amid the pandemic.
Among U.S. users 18 and older, TikTok brought in 22.2 million mobile unique visitors in January, 23.2 million in February and 28.8 million in March. In April, that number skyrocketed to 39.2 million—three times the 12.6 million who used the app last April, according to the most recent Comscore data provided to Adweek.
TikTok beat records for mobile downloads, according to the app analytics firm Sensor Tower, which found that in the first quarter of 2020, the platform "generated the most downloads for any app ever in a quarter," with more than 315 million installs globally across the App Store and Google Play.
But, TikTok's growth in the U.S. during quarantine has also come with a caveat: New data shows that millennials are making up a greater share of TikTok's user base than ever before. Why? Because, like the American teens of Zhu's original target demo, many older people are finding they have extra time on their hands.
According to Comscore, which only tracks users 18 and over, the percentage of U.S.-based TikTok users age 18-24 fell from 41.1% in January to 35.3% in April, a 5.8% drop. During that same time period, the share of 25- to 34-year-olds rose from 22.4% to 27.4%, and the 35-44 demographic grew from 13.9% to 17.1%.
It's not that younger people aren't still a huge part of TikTok's business—between January and April, the 18-24 demo grew from 9 million to nearly 14 million unique visitors—it's just that the millennial age brackets are growing at a faster rate during quarantine. There were fewer than 5 million Americans ages 25-34 on the app in January. In April, there were nearly 11 million.
Meanwhile, older demographics (45-54 and 60+) saw mostly stable growth, but 55-64 year olds dropped off by 2% of TikTok's composition between January and April.
Those who work closely with TikTok's platform told Adweek they have noticed the growth in non-teen demographics.
"Not only are people using it more because it's fresh, but because people now actually have time to sit and watch things on their phone and have time left to create content," said Alex Devlin, a WME talent agent who represents TikTok influencers including Addison Rae. "People are trapped inside their homes all day with their families, so this gives them something fun to do together."
More than 30 million people have lost their jobs due to the economic scourge wrought by the pandemic, and many more are working from home during this time. Without commuting times and supervisors peering over shoulders at screens, many people have the time and space to explore TikTok.
Will more millennials mean fewer Gen Z users?
Laura Perez, a spokesperson for TikTok, declined to discuss how its audience is changing, but noted that users may be turning to the platform for "positivity and levity."
"There is a lot of inspiring, uplifting and educational content coming from users of all ages, including grandparents, college students, parents and families," Perez said. "We're seeing multiple generations in families creating videos together as bonding time while they're all at home together."
Some media buyers and marketers don't know what to make of TikTok's estimated change in demographic, what it means for the long term, and if this growth could ultimately present obstacles for the platform.
"It might be the best thing [for the platform] because they're getting such a broader audience, but millennials might kill TikTok for Gen Z—because as soon as millennials get onboard, Gen Z is over it," said Melanie Nelson, associate director at The Media Kitchen, a media planning and buying agency.
Nelson said it'll be interesting to see how TikTok keeps both audiences engaged, noting that Instagram weathered a similar challenge particularly well as its audience has expanded.
Alessandro Bogliari, founder and CEO of The Influencer Marketing Factory, agreed that shifting demographics can have tenuous effects on the health of the platform as it matures.
"The only thing I'm sometimes afraid of is that Gen Z might not find it cool anymore and might abandon it," he said. "If millennials and Gen X and boomers get on, is this going to transform it into Facebook?" Once upon a time, he said, he used Facebook for everything—now, he mainly uses it for birthdays.
He also feels the platform is oversaturated with new creators, but thinks the surge of content will level off when quarantine lifts.
The influx of non-teen users also makes TikTok a more challenging place for marketers to target their ads and influencer campaigns.
"Targeting is still fairly limited on TikTok, so as the audience becomes more diverse, you can open yourself up to a lot of waste," Nelson said. "We've also seen TikTok increase their prices pretty substantially quarter over quarter, which makes total sense. They have a broader audience that they can put in front of advertisers.
"But if you're not an advertiser looking to reach Gen Z and millennials, male and female, all of a sudden you start looking at your budget and trying to calculate how much of that ad spend is going to waste."
The platform's sponsored hashtag challenge went from $120,000 in Q4 2019 to $180,000 in Q1 2020, a 50% increase quarter over quarter. In that same period, TikTok's brand takeover product, where a brand's ad appears first on all TikTok users' screens when they open the app, went from $70,000 to $100,000, according to one media buyer, who spoke on the condition of anonymity.
With depleted ad budgets in many sectors, some advertisers and buyers may see these trends—which indicate important maturation for the platform—as a negative until TikTok can add better ways for brands to reach more specific audiences.
ATTRIBUTION: ADWEEK