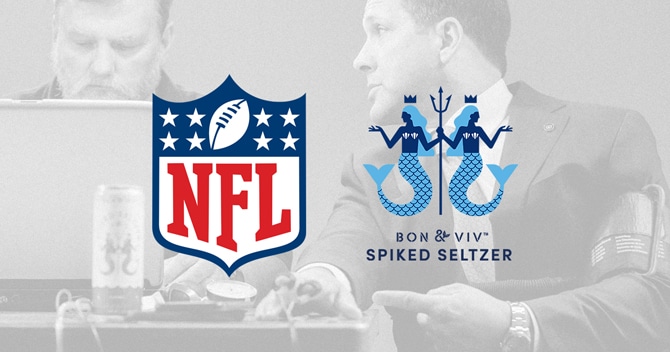 Breaking: Bon & Viv Announced as Official Hard Seltzer of NFL
Hard seltzer is amongst the hottest products in the alcohol industry. Earlier today Bon & Viv Spiked Seltzer, formerly titled just Spiked Seltzer, became the official hard seltzer of the NFL. Popular NFL analyst and reporter for ESPN, Adam Schefter, broke the news today in an awesome activation video posted on Bon & Viv's Instagram account which has a little over 28K followers. The video was also posted on Schefter's Instagram, which has over 600K followers, and his Twitter which has over 7 million followers, most of which are dedicated NFL fans. The activation provided a creative way to break the news, as Adam Schefter traditionally reports on player news from around the league, but instead broke the news of this creative partnership. This creative activation will create hype and garner attention from NFL fans, broadening the reach of Bon & Viv.
Creative Use of Influencers
Many may not think of Adam Schefter as a social media influencer, but in today's day and digital age anyone with a significant social media following can function as an influencer and be used to market a product or brand. That's what's taking place here. Schefter's 8 plus million social media followers between Instagram and Twitter allow him to reach a large audience, an audience of NFL fans which Bon & Viv is trying to reach. This advertising campaign with Adam Schefter is creative and should pay dividends for Bon & Viv as they aim to take on a larger market share of the hard seltzer industry and establish themselves as not only the official hard seltzer of the NFL but also the official hard seltzer of NFL fans.
Hard Seltzer
The hard seltzer industry is starting to blow up. Recently, large beverage corporations like Anheuser-Busch have introduced more and more hard seltzer products. The Anheuser-Busch brand now has multiple spiked seltzers under their brand name with Natural Light also introducing a hard seltzer in addition to the Bon & Viv Spiked Seltzer. Other popular hard seltzer brands include Truly and White Claw among others.
Bon & Viv
The Anheuser-Busch brand introduced the newly branded Bon & Viv Spiked Seltzer to the sport world this past February when they ran an ad during Super Bowl LIII. The ad played off of ABC's popular show, Shark Tank, and generated a lot of buzz surrounding the newly branded product which was formerly called just "Spiked Seltzer." In becoming the official hard seltzer of the NFL, Bon & Viv will receive much needed publicity as they look to gain ground on other popular hard seltzer brands such as Truly and White Claw.
Anheuser-Busch already has alcohol exclusivity for ads run during the Super Bowl and are the parent company of the NFL's official beer, Bud Light. By coming to terms with the NFL to brand Bon & Viv as the NFL's official hard seltzer, it will strengthen their hold on the alcohol market for ads run during the Super Bowl. This lucrative partnership in which millions of dollars are spent, generates a ton of revenue for both the NFL and Anheuser-Busch.
NFL and Alcohol Future
Each year during the Super Bowl there are hundreds of millions of dollars spent on television advertising. This number can be expected to increase as this past spring the NFL loosened its policies on both player likeness in alcohol advertising and liquor advertising. These had both priorly been restricted, as the NFL aimed to maintain a family friendly reputation. In the past, the NFL has also denied companies in categories such as CBD the right to advertise during their programming for fear of public backlash. The NFL had similar fears about hard liquor and using player likeness with alcohol brands.
By allowing alcohol brands to advertise with players it will open up doors in a number of ways. First, players will have another category to pursue endorsement deals in. This news will allow popular NFL stars like Odell Beckham Jr., Saquon Barkely and others to potentially team with alcohol brands to work on campaigns and build their portfolios.
This news will also open doors for alcohol brands. In 2018, 5 of the top 10 rated television shows were NFL games. The NFL receives such a high level of viewership that their commercial slots are some of the most attractive for brands to exploit when advertising on tv. By loosening the restrictiveness of the type of alcohol that can be advertised and who can be in the advertisements, more alcohol brands will able to advertise through the NFL, reaching substantial audiences on a weekly basis.
As for the NFL, all of this means the largest sports league in the world will be able to broaden their brand and make even more money than they already do. The NFL continues to do a good job finding both lucrative and creative partnerships that expand their brand.