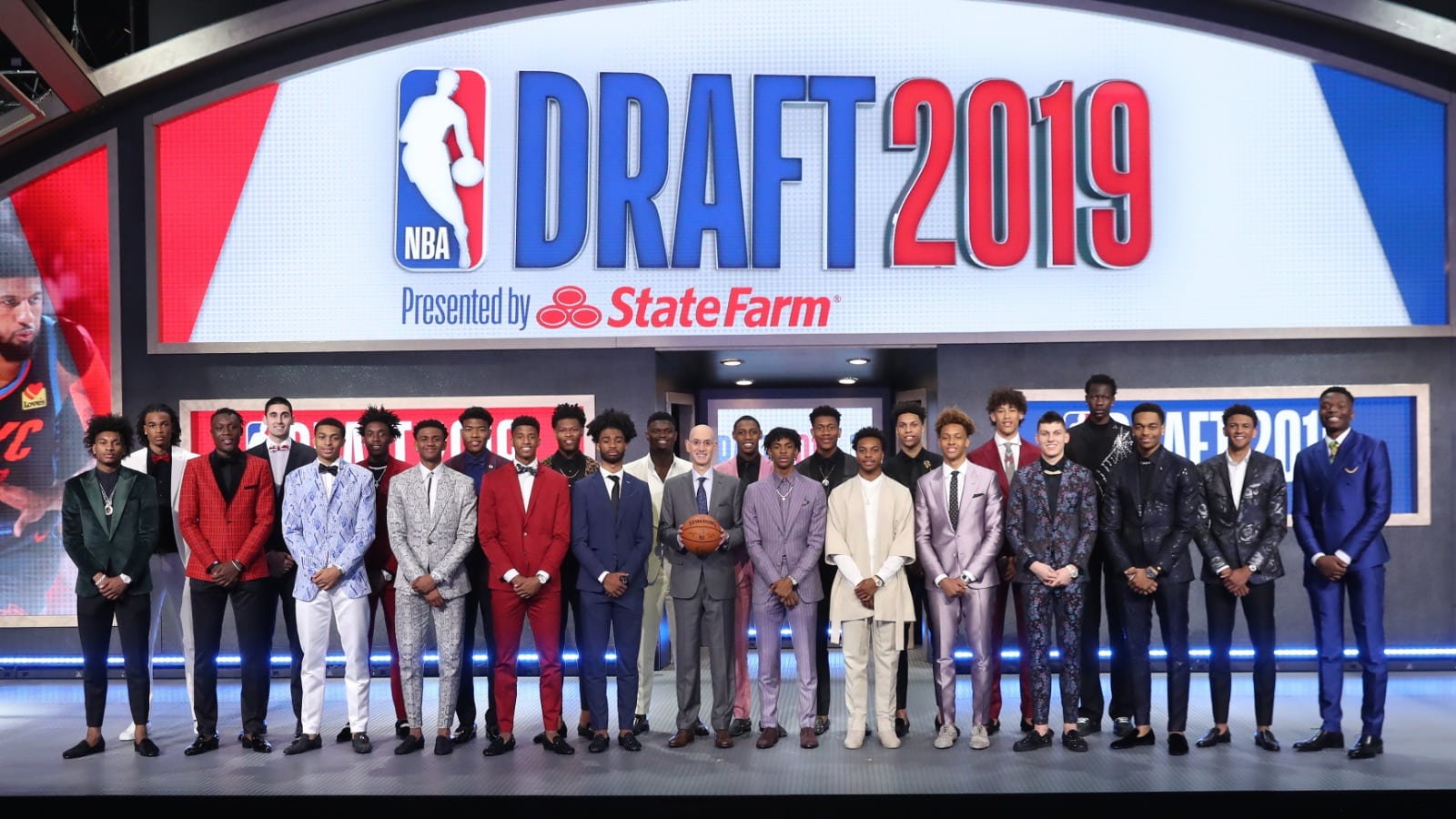 Celebrity Trending 10: Most Marketable NBA Rookies
The NBA Draft, held Thursday, June 20th started off as expected. Duke's Zion Williamson was selected first overall by the New Orleans Pelicans. The Pelicans were followed by the Memphis Grizzlies who selected Ja Morant out of Murray State, and then the New York Knicks who selected Willamson's college teammate RJ Barrett. The rest of the draft brought more excitement with it, though. Players were rising and falling on team's draft boards and dozens of trades took place, all of which led to a thrilling night at the Barclays Center in Brooklyn.
Now that the NBA draft is in the rearview mirror it is time to assess each team's performance, but not in the usual way. Instead of grading player's on their athletic prowess we'll grade them on their marketability. The goal is to determine which rookie NBA players will bring the most off the court in addition to what they bring on the court.
Without further ado, here are the top 10 most marketable NBA rookies.
Zion Williamson–New Orleans Pelicans
At number one is none other than Zion Williamson. Zion Williamson, son to Shareef Sampson and Lateef Williamson, is known for his high flying athleticism and dunking ability. Perhaps the most touted NBA prospect since Lebron James, Williamson grew up in Spartanburg South Carolina. It is no secret where Zion gets his athletic ability from. His mother Shareef, a professional sprinter, taught him to play basketball at a young age. His father was also a pro football player. Zion's step dad, Lee Anderson, played college basketball at Clemson and has also helped Zion refine his skills.
It may seem lazy to choose the number one overall pick as the most marketable NBA prospect, but it's true. WIlliamson, commonly referred to as just "Zion" might be the most marketable NBA prospect ever. That's right EVER. Sport speakers Lebron James and Ben Simmons came close, but as the world becomes increasingly social media and digitally driven Zion has the upper hand.
His name alone shows how world renowned he is. He's come to be known as just "Zion." How many athletes in the world have a large enough buzz around them to be referred to by just their first name? Not many, one can count on one hand how many athletes go by one name. LeBron, Ronaldo, and Messi to name a few. These three are some of the most valuable and well-known athletes in the world. Similar to these individuals, Zion is known globally with the same magnitude. He is well on his way to becoming not only the most marketable NBA rookie but most marketable American athlete.
Zion started generating hype in high school in Spartanburg, South Carolina where his superb dunks were blasted all over social media. He's continued to grow his brand on social media where he now has 3.6 million followers on Instagram. This number is higher than all but 23 current NBA players. He has a larger Instagram following than already established NBA stars such as D'angelo Russell and Demar Derozan among numerous others. This is very valuable as he is able to reach a large population of people.
Zion has already started building his brand in the city of New Orleans where he's already dedicated a basketball court to the city's youth with the help of the Pelicans. He's on pace to be one of the most marketable athletes ever, evidenced by a Florida sport marketing agency suing him for $100 million for breach of a contract for a deal that was invalid under South Carolina law.
2. Rui Hachimura–Washington Wizards
Rui Hachimura, former Gonzaga basketball player, made history on Thursday night. He became the first ever Japanese born basketball player to be selected in the NBA draft. He was born in Toyama Prefecture, Japan to a Japanese mother and a Beninese father, whose names are undisclosed.
The NBA is possibly the most global American sport with fans in continents like Asia, Europe, and Africa among others. The NBA has stars from countries like Cameroon in Joel Embiid and Pascal Siakim as well as European stars like Nikola Jokic. However, the NBA is lacking a notable Asian-born star. Hachimura could become this with his recent top 10 selection in the draft and the NBA could very well have its next international star. The Japanese "national icon" is well on his way to becoming a household name not only in his native Japan, but also in the US. He's already signed with Jordan Brand and has dozens upon dozens of stories written about him in both Japan and the United States. He represents an opportunity for the NBA to continue their globalization. 3. Darius Bazley–Oklahoma City Thunder
Darius Bazley might have the most interesting path to the NBA. He grew up in Cincinnati, Ohio and is the son to Lynitta Cowan. In the spring of 2018, Bazley was committed to Syracuse University to play basketball for Jim Boeheim and the Orange. He then decommitted from Syracuse and declared he would play in the NBA affiliated G-League for a year before entering the NBA Draft. His plans then changed again when he pursued a $1 million "internship" deal with New Balance. The deal pays Bazley a base salary of $200,000 each year if he's on an NBA roster. The "internship" is part of a larger shoe deal that could pay Bazely up to $14 million if he's able to reach certain performance incentives.
Under current NBA rules a player can't be drafted directly out of high school. In the past we've seen prospects elect to play professionally overseas instead of in high school so they're able to enter the NBA early. Bazley's path to the NBA represents a different avenue to the league for those who wish to opt out of playing college basketball. This could lead to potential rule changes for the NBA, that Bazley could become the poster boy for. He has garnered a reputation as a trailblazer for his unique choices that have rewarded him with being drafted into the league.
Through his decisions, Bazley has garnered more business experience than other NBA rookies, due to NCAA laws that prohibit college players from making money and singing endorsements. Bazley has set himself apart with his varying career choices and all eyes will be on him as he turns pro this fall.
4. Coby White–Chicago Bulls
Coby White was selected 7th overall in the 2019 NBA draft. White grew up in Goldsboro, NC where he set the state high school scoring record for basketball. The 6'5 point guard from UNC is the son to Bonita and the late Donald White. White lost his father to cancer when he was just 17 years old. Coby recently opened up about the struggles he faced losing his father in an article he wrote for The Players' Tribune.
After his father's death, Coby became very saddened and angered, he has carried this feeling with him to present day. Although his father's death happened in August of 2017, Coby has had struggles with anger and sadness as recently as this past season. During his time at UNC he would go from the top of the world with excitement when he played well, to the bottom of the ocean with anguish when remembering his father wasn't there to enjoy it with him. White has slowly learned to use his emotions to motivate him. Coby wears his heart on his sleeve and plays for his father, constantly thinking about him both on and off the court.
Coby was a fast riser this past season at UNC. Through motivation and determination White became a player talented enough to take his talents to the NBA after just one college season. Outside of his athletic ability White is recognized for his voluminous hair. The 19 year old, was often referred to as having the best hair in college basketball this season. His talent, values, and distinguished appearance have all the makings of a highly marketable star.
5. Bol Bol–Denver Nuggets
Bol Bol played his college basketball at the University of Oregon. He was born in Sudan but raised in Kansas, MO. His father is the late Manute Bol who was the tallest player in NBA history at 7'7. Bol has also come to be recognized for his height and stands at 7'2. A lot of Bol's marketbality comes from his background, being the son of former NBA great Maute Bol generates a lot of buzz.
Bol made headlines last week when he fell from potential lottery pick with lots of talent to a mid-second round pick. It will be interesting to see how is NBA career unfolds in comparison to both his Dad and the potential he was highly touted for in both college and high school.
Bol has expressed that he wants to continue philanthropic work in his native Sudan, like his father. When you combine Bol's heritage and potential there is a lot of hype to be tapped in to. Denver got possibly the biggest steal of the draft; this will be a storyline for years to come.
6. RJ Barrett–New York Knicks
RJ Barrett was drafted 3rd overall by the Knicks in the NBA Draft. He came into the college basketball season as the projected number one overall pick but was ultimately leap frogged by his Duke teammate Zion Williamson and Murray State player Ja Morant. Barrett is from Mississauga, Canada. He is the son of Rowan and Kesha Barrett. His father, Rowan, played professional basketball in Canada and Europe and played for the Canadian National Team with NBA Hall of Famer Steve Nash, who is RJ's godfather. Rowan is also the General Manager of the Canadian National Basketball Team.
Barrett re-classified in June of 2017 to the class ahead of him, meaning he is younger than almost any other NBA prospect. This year when he's playing in the NBA he should actually be playing in his freshman year of college. RJ has fast-tracked his route to the NBA by doing so and now looks to become the face of the New York Knicks. In addition, Barrett is possibly the best Canadian basketball player since his godfather Steve Nash. The Canadian National Team will likely ride on the Barrett name with Rowan putting together the roster and RJ leading the team on the court. Both Canada and New York City will be squarely rested on RJ's shoulders for the foreseeable future. The huge stage of both of these markets catapults RJ into stardom making him a very marketable and recognizable athlete.
7. Ja Morant–Memphis Grizzlies
Ja Morant of Murray State was selected 2nd overall in the NBA draft last Thursday. He's from the state of South Carolina where he was raised by his parents Jamie and Tee Morant. His father Tee, who was also a professional basketball player overseas, trained Ja and helped him make it to this stage. Ja was also once teammates with Zion Williamson in high school.
Ja's story is particularly interesting because he comes from such a small school, in Murray State. Most NBA draft picks come from larger conferences with schools that are known for producing NBA talent. Although Ja went to a smaller school, he has earned a lot of recognition for his talent evidenced by his draft selection, which represented only the second player in Murray State history to be taken in the first round of the NBA draft.
In March, Ja led the Murray State Racers to only their 3rd March Madness win in school history over much bigger school, Marquette. The tournament win shows that talent can come from anywhere and small schools are capable of producing uber-talented athletes. Ja will look to continue to prove this in the NBA and will hope to join the likes of Steph Curry, Damian Lillard, and CJ McCollum as players who attended small colleges and achieved NBA stardom. This storyline, accompanied by Ja's prospective potential makes Ja highly marketable.
8. Carsen Edwards–Boston Celtics
Carsen Edwards, of Purdue, was drafted 33rd overall by the Boston Celtics in the 2nd round of the NBA Draft. Carsen is the son to James and Carla Edwards and has 3 sisters. The Houston, Texas native has been consistently underrated throughout his high school and college careers. Edwards was ranked as just the 88th best prospect in his high school class.
He attended Purdue for 3 years consistently improving each season. In 2019, he led all Power 5 school players in points per game and scored more points per game than any other college prospect drafted except Ja Morant. Despite this Edwards was not selected until later in the draft.
For whatever reason it may be, Edwards seems to be constantly underrated. In spite of this, he always performs. He led Purdue to a deep tournament run in 2019, reaching the Elite Eight. Edwards could quite possibly be one of the biggest steals of the NBA draft. His diamond in the rough status could prove to be beneficial to the Celtics as they found a very talented player who everyone will be rooting for because he is an underdog of sorts.
9. Admiral Schofield–Washington Wizards
Admiral Schofield of Tennessee was selected in the second round of the NBA draft. The pick in which he was selected does not represent his college production. The 2019 All-SEC team member was a standout in college leading his team to the Sweet Sixteen this past season.
Schofield is the son of Anthony and Dawn Schofield, and the brother to 2014 Super Bowl champion O'Brien Schofield. Admiral was born in London, UK where his dad was stationed while in the military. Anthony Schofiled, a retired Senior Chief, gave Admiral his unique name because Admiral Insurance is a popular insurance company in the UK. The name stuck and now Admiral has the best name of any NBA draftee and quite possibly the best name in the entire NBA.
Admiral will look to outperform his draft selection and develop into a star player that matches his distinct name that is not easily forgotten.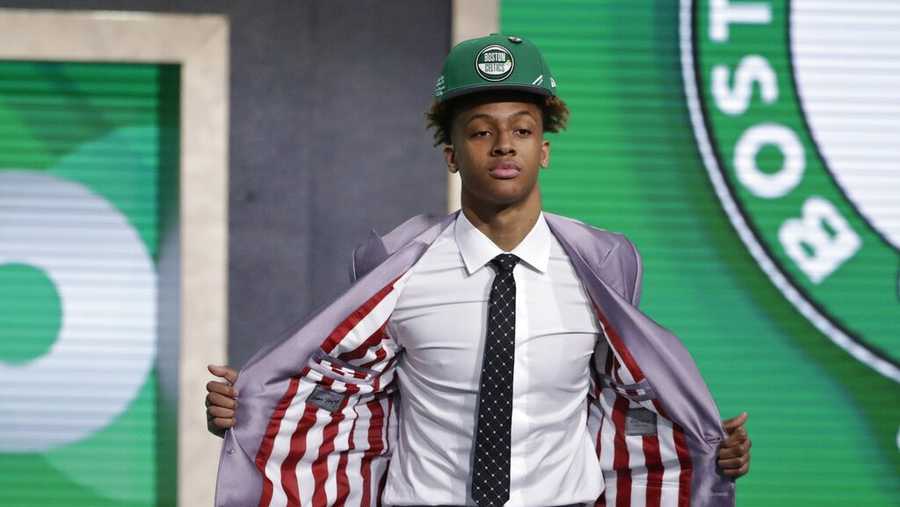 10. Romeo Langford–Boston Celtics
Romeo Langford was taken with the 14th pick in the 2019 NBA Draft by the Boston Celtics. The Indiana University product was a one-and-done prospect who is originally from the state of Indianna.
Romeo, the son to Tim and Sabrina Langford, was one of the best high school prospects not only in Indiana but also in the United States as a whole. By staying in the state of Indiana for college Romeo was able to build an already large base into an even bigger one. Romeo's season at Indiana University was up and down, headlined by a thumb injury that required surgery. However his talent and potential are undeniable.
The Celtics got another strong asset in Langford, he'll look to prove himself on the court. Also look for him to establish himself in the Boston community as a reliable role model as well as an athlete, as he did in his home state of Indiana.