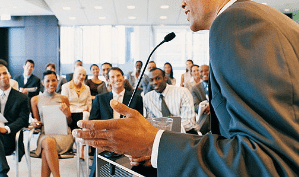 CelebExperts Releases Its Top 5 Tips for Hiring a Keynote Speaker
The industry-leading talent acquisition and consulting agency shares its secrets on how to hire the best keynote speaker for any event.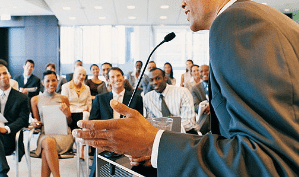 New York, New York (PRWEB) August 12, 2014— CelebExperts, the premier consulting firm for securing celebrity talent, has provided businesses with new insight on the best practices for hiring a keynote speaker. The company's team of experts has assessed the relatively unknown process and recently published the Top 5 Tips for businesses looking to hire a keynote speaker.
The niche space of celebrity talent acquisition is a multi-million dollar industry full of talented and quality speakers. From former Presidents and corporate executives to iconic athletes, celebrity chefs and reality TV stars, celebrity guest speakers provide a unique and memorable experience for event guests. CelebExperts CEO Evan Morgenstein commented, "Too many event planners, agencies and companies use search engines to find keynote speakers only to find out after the fact that they've been duped! Transparency and truthful consultation is what the customer wants and deserves."
Here are the Top 5 Tips for businesses when hiring a keynote speaker for an event:
    Google, Bing and other search engines can be challenging! Talent buyers must stay sharp in recognizing which speakers bureaus are actually qualified to assist in booking celebrity talent. Just because a website has a professional layout and a database full of talent names and fees doesn't mean they definitively know who represents the desired speaker.
    Background information is essential. Some speakers bureaus exclusively represent talent they list on their website while others act as middle men in brokering the deal. Finding out this information up front can save time and money when it comes time for a business to assess prospective deals.
    Clearly defining the acquisition process and the associated fees keeps any business from falling victim to a "flipped" contract. Businesses must demand complete transparency when orchestrating a deal in order to legally protect themselves from hidden fees. The easiest way to cure this often unnoticed issue is to require the bureau to list their fee in the official contract.
    Businesses do a disservice to themselves and their special event if they remain at arm's length from the talent until event day. It is absolutely critical for talent buyers to have a pre-event phone call with the talent to set expectations, share the vision of the event and their role as the event's guest speaker.
    Absolutely NO deal should be processed without a thorough scanning from a company's legal team. By allowing a company attorney to review the binding contract, companies can be sure they have not missed any fine print and will have desired flexibility within the terms that are agreed upon moving forward.
About CelebExperts: CelebExperts was created by industry veteran Evan Morgenstein who has a diverse background in talent representation, brand activation, sponsorship procurement, celebrity acquisition, licensing, and other areas of expertise revolving around the utilization of and achieving the greatest impact from a celebrity. For a more formal discussion about the opportunities your company may have for a celebrity spokesperson, please contact consulting@celebexperts.com or to speak directly to a corporate consultant call (919)459-5426.
###