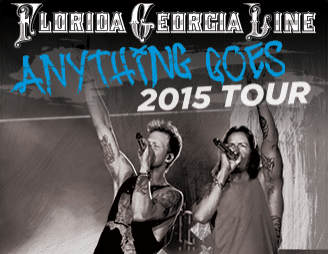 Florida Georgia Line And Mt. Dew, The Perfect Celebrity Partnership!
The Iconic soda brand signs up as sponsor for Florida Georgia Line's 2015 "Anything Goes Tour"! Country music act Florida Georgia Line is white hot and its front men, Tyler Hubbard and Brian Kelley are now joining Beyonce, Dale Earnhardt, Jr., Taylor Swift, Michael Jordan and 50 Cent among many other other famous stars in fronting a campaign for a beverage company that resonates with Middle America. Mt. Dew has signed on as an official sponsor for their upcoming worldwide tour set to kick off January 22 in Biloxi, Mississippi.
The beverage and apparel industries have long been considered the Holy Grail by marketers and agents alike. The Mt. Dew brand has flashed its southern/country roots before as witnessed in the extensive celebrity partnership with Dale Earnhardt Jr. and his #88 NASCAR team.
The success of the ongoing celebrity partnership has transformed Earnhardt Jr. into an anchor celebrity spokesperson for the brand.
Florida Georgia Line lead singers Hubbard and Kelley will now join the NASCAR racer as Mt. Dew spokespeople executing personal appearances tied to retailers, social and traditional media executions plus on-site activation at all "Anything Goes Tour" stops in 2015. Brian Kelley added, "Just like the DEW brand, we're all about creating a style and sound that's all our own. It's going to be a great time out on the road and we look forward to hanging out with DEW Nation at every stop the tour takes us."
The demographic fit for this new celebrity partnership between Mt. Dew and Florida Georgia Line is a match made in heaven. The band's irreverent, take no prisoners persona in the same lane as country rock star Kid Rock is a great fit for the brand as it continues to celebrate its southern roots. They are expanding their marketing reach with the hottest act in country music that has made the cross over into rock radio stations and is known for a good time at every tour stop.
Commercially, Luke Bryan, Jason Aldean and Kenny Chesney have also had huge commercial success and started with a very similar country background. Mt. Dew Director of Marketing, Greg Lyons had this to say about the new relationship with Florida Georgia Line, "Pushing conventional boundaries and instigating cultural shifts is something that has always been core to Mountain Dew. Florida Georgia Line's unique sound has progressed country music and transcended traditional country music audiences since first hitting the scene.  We are looking forward to being on the ANYTHING GOES TOUR with the duo and to continuing to share their talent with DEW Nation."
If your company, brand, product or organization is considering utilizing a celebrity partnership to tell your brand's story, contact CelebExperts and receive world-class corporate consulting on the topics of Celebrity acquisition, vetting celebrity talent, standard celebrity fee ranges, and other topics involving celebrity talent acquisition. Email our team at consulting@celebexperts.com or give us a call at (919)459-5426.