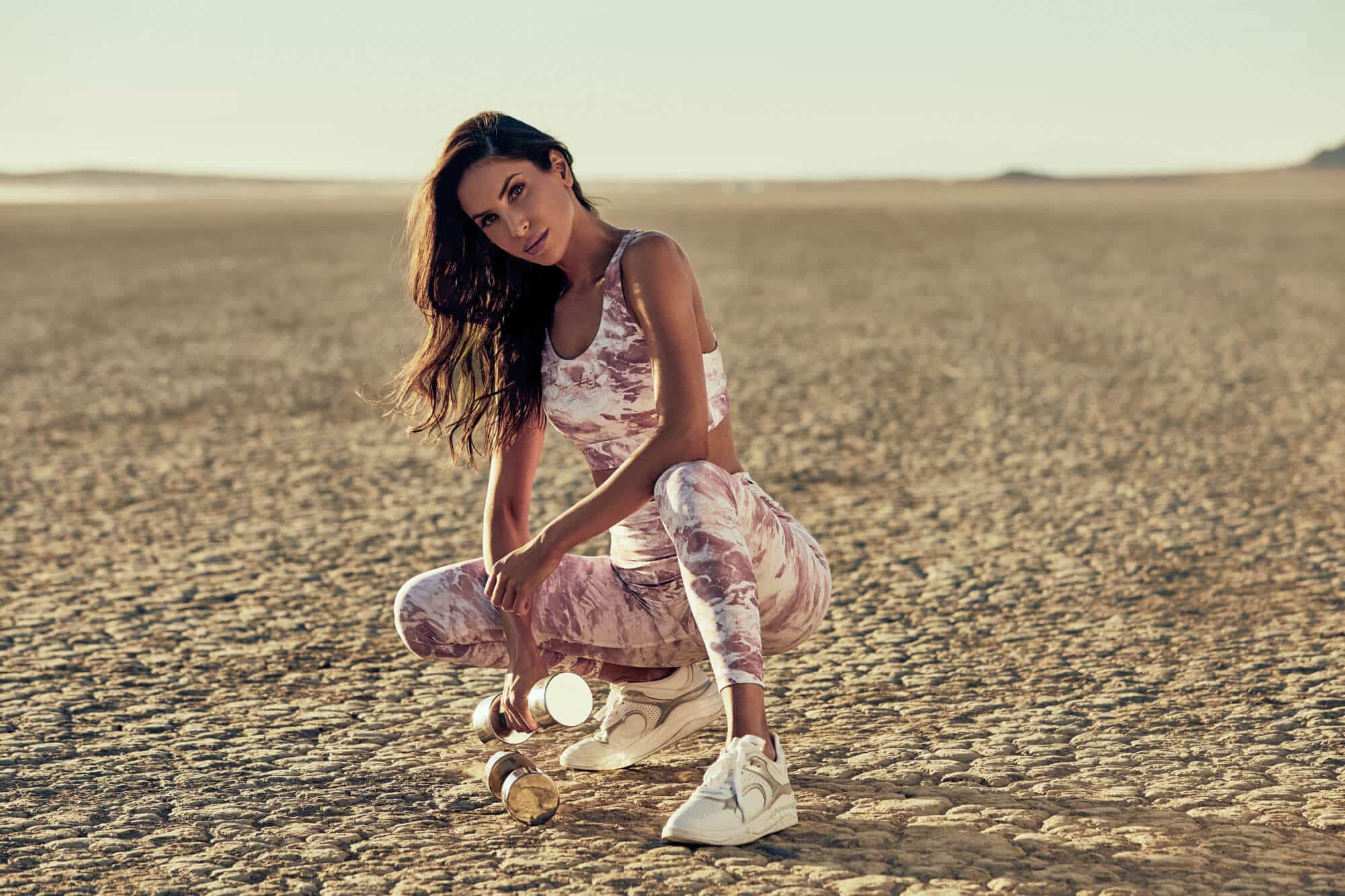 JEN SELTER STARS AS THE NEW FACE OF GUESS ACTIVEWEAR
Kicking off the Spring 2021 season in proper style and form, GUESS launches their brand new Activewear range — and this time, the iconic denim and lifestyle retailer enlisted no other than Jen Selter to represent their newest collection.
The OG in social media fitness, she began her career as a teenager posting pictures on several social media platforms including Instagram, which at the time was new and virtually unknown. Eventually, she managed to bring together the next generation of mighty young women through her diligence and commitment to uplifting her social media followers. Looking back at that time when her career was just about to take off, Jen remembers seeing GUESS as one of her all-time favorite brands and wearing it day in, day out.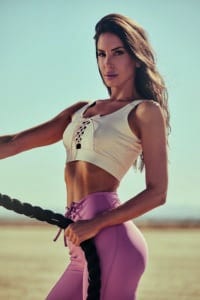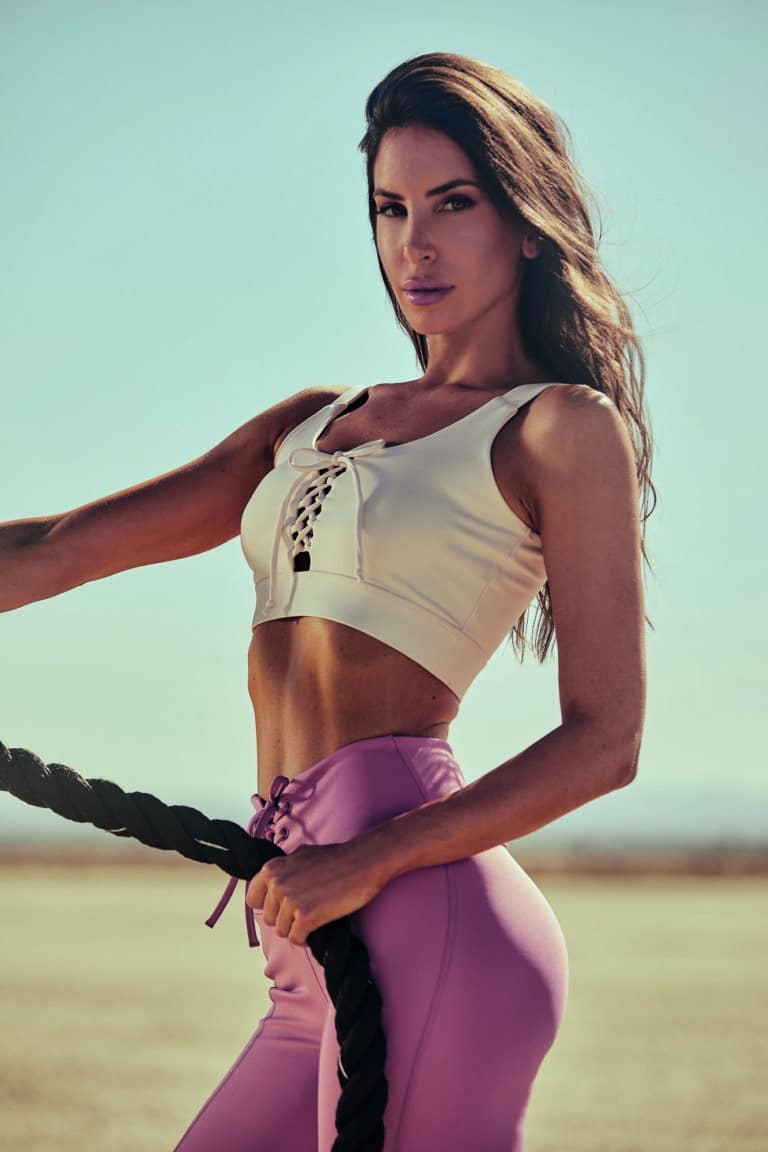 "Growing up, I've always been a huge GUESS fan," Selter recalls. "To all the Sweet 16 and bar mitzvah parties, I would always wear their clothing and stuff. Now, [the GUESS team] and I have been in touch for four or five years, always gifting new products, et cetera — I've always just been like a real fan of it but never had a partnership."
Despite having this partnership as a very natural continuation of Jen's long-time relationship with the brand, the social media star still can't believe it happened and feels very lucky to be able to represent GUESS's new activewear line. "I never expected it to happen either — but it was always a dream," she says. "I don't consider myself a model, really, so I never would expect to be the face of their activewear brand activewear. It's all so crazy to me, and I would definitely say this is one of my most exciting partnerships to date."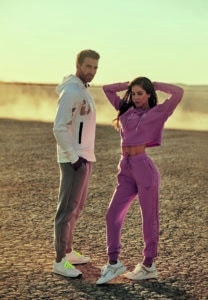 The Spring activewear collection is dominated by a mixture of high-performance sports bras, leggings, tank tops and zip jackets in comfy, light-weight fabrics. The matching two-piece sports bra and legging sets in a variety of solid colors are made for mixing and matching, allowing you to breathe new life into your fitness routine. Cool-girl track jackets and pants in muted hues create the perfect athleisure look and add comfort to your wardrobe; naturally, each design featured in the spring activewear delivery is made with the best technical fabrics to maximize functionality, performance and comfort.
As one of the most influential social media stars, fitness advocates and lifestyle experts, Jen believes that dedicating energy and effort to their own well-being is something that should be embraced daily — and exemplifies this belief to her social media community every single day. When asked about what this partnership with GUESS and the brand's new activewear line means to her, the fitness aficionado and women's empowerment leader tied it all together seamlessly.
"It's about feeling confident, you know — going out and feeling cool and stylish," Selter explains. "I'm someone who doesn't really dress up, I'm more of a casual person, so I love activewear that you can also wear out to lunch and feel like you don't need to only wear at the gym. Like it's fashion, it's cool — especially if it's like this outfit I'm wearing right now!" [We are talking over Zoom and I see Jen wearing Logo Tape Scuba Zip Up Jacket and Logo Tape Scuba Pants from GUESS — her current favorites from the line.]
This is not the first partnership Jen has had over the course of her career, but it sure feels like a very special one. "I've been the face of some other campaigns but this is one of those brands that I have been in touch with for so long," Selter explains. "And when you are in touch with the company for so long just organically, because you love the brand, and then a partnership comes to life — that's always the best feeling. But I am the face of a brand called BlendJet and have done some other campaigns in the past."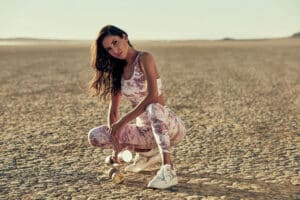 Shot by fashion photographer Josh Ryan, Jen's first activewear campaign for GUESS was photographed in El Mirage Dry Lake, CA where she was accompanied by model Nic Palladino. The duo is photographed wearing key styles from the Spring 2021 activewear collection; the photos can now be seen plastered on billboards, a plethora of social media accounts and the brand's very own website. Though all of it still feels kind of surreal to Jen, she is very excited to see how the GUESS x Jen Selter partnership will grow and develop in the future.
"I am already kind of living my dream — it's crazy, seeing billboards and stuff," she says. "But I would like to create my own capsule, from start to finish; taking all of my favorite pieces and just making my own line with them."