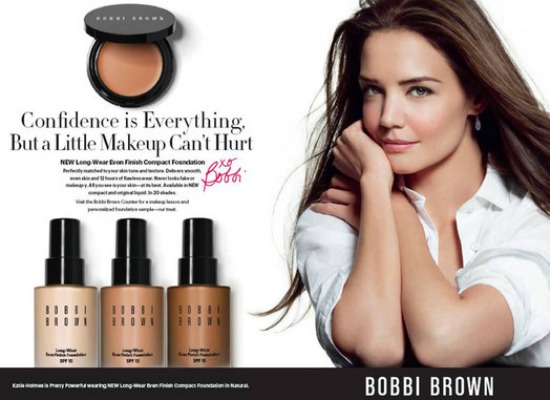 Katie Holmes and Bobbi Brown Cosmetics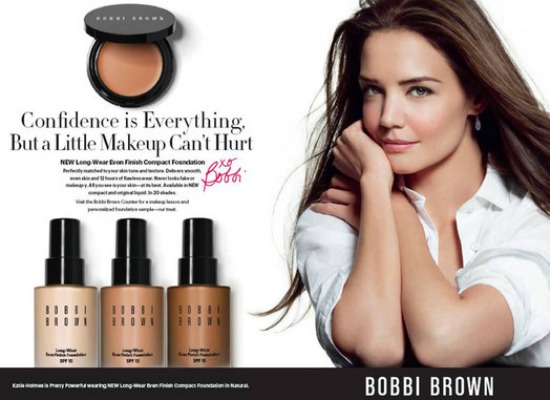 The former Mrs. Tom Cruise, Katie Holmes has signed on as the first celebrity spokesperson hired by cosmetics juggernaut,  Bobbi Brown.  This departure for Katie Holmes to be hired by any company really shows tremendous growth in her own brand identification.
The elite female celebrities that have been hired by a cosmetic company include: Cindy Crawford, Queen Latifah, Pink, Drew Barrymore, Emma Stone, Hayden Panettiere, Rihanna, Taylor Swift, Nastia Liukin, Beyonce, Christie Brinkley, Tyra Banks, Molly Sims, Faith Hill and many others.  These iconic celebrity stars from TV, film, music, sports and theater have established themselves as breakout celebrities because mega cosmetic companies believe that hiring them will create a bridge between their core customer and the company, their products and the brand's messaging.
These women who have been hired or booked for these celebrity endorsement campaigns usually extend their popularity with their core fan and consumer of their music, books and other celebrity campaigns, i.e. Beyonce and Pepsi's global campaign.  Only the elite of elite are hired as a celebrity spokesperson and paid millions of dollars, but in the cosmetics business, that type of investment usually pays off!  The celebrity acquisition process is at times tedious and protracted, but in the end everyone can win!