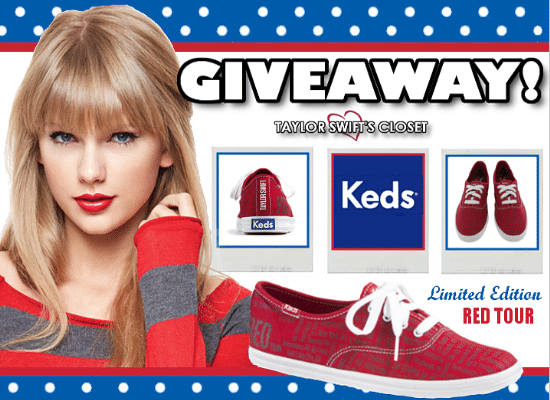 Keds Steps Up to Sponsor Taylor Swift's RED Tour!
As the most influential music act worldwide, Taylor Swift has become a marketing machine!  Her Tour has global and regional corporate sponsors including a new deal announced today by Keds who continues to re-define itself and become a fashion forward footwear brand for women and girls. The shoe brand has been around for almost one hundred years and has become the favorite for both everyday "girls next door" and fashion icons like Ms. Swift alike.  The RED Tour has seen over 1.5 million fans and is on its way to Asia. Also serving as corporate sponsor of Swift's tour is Cornetto; the ice cream manufacturer is deeply tied in with The Red Tour via social media with an ongoing promotional campaign via Twitter, Facebook and Instagram.
Keds will build out their Keds Style Studio at each of the venues on the tour in Asia. Keds Style Studio will be an exclusive on-site interactive booth where fans can hear more about Keds products and explore their own personal styles. In the Keds Style Studio, fans will also have the ability to enter in several contests to win prizes including backstage passes, concert seat upgrades, and they will even a chance to win a trip to London.
Rick Bradshaw, President of Keds had this to say about their involvement with Taylor Swift and the RED Tour, "We are thrilled to be part of Taylor Swift's The RED Tour… It was awesome to see Taylor wear Keds on stage and during her US tour we saw over a million of her fans… We can't wait to bring the same fearless style to even more fans around the Globe."
More and more Taylor Swift is becoming a brand icon because the love affair with her fans is so authentic. With 9.5 million Facebook fans and 39.3 million Twitter followers, Ms. Swift is a one-woman publicist's dream!