CelebExperts Taps NFL as Hot Bed for Its Top 5 Celebrity Ad Campaigns of August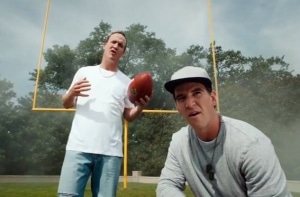 The research team at CelebExperts, a leading consulting firm for securing celebrity talent, has compiled a list of the Top 5 Celebrity Ad Campaigns that came to fruition during the month of August. A successful celebrity ad campaign for any company often hinges on the timeliness and relevance of the celebrity spokesperson they have chosen to utilize.
"The NFL is by far the biggest sport in the U.S. and corporate America has long seen the benefits of leveraging the icons of the gridiron. With the start of the 2014 season, DIRECTV scores big with its hysterical Manning Brothers campaign. One Manning is good; both in the same campaign is gold for DIRECTV," said Evan Morgenstein, President and CEO of CelebExperts.
Week 1 of the 2014 NFL season begins the first week in September, and several notable brands have seized the moment and planned or executed successful ad campaigns with some of the NFL's most recognizable stars. Here are the Top 5 Ad Campaigns for the month of August:
1. Peyton/Eli Manning & DIRECTV: The Manning brothers debuted another brilliant hip-hop video/commercial to endorse the cable service's newest NFL viewing packages. If YouTube views are any indication, the public can't get enough of this improbable rap duo and DIRECTV.
2. Blake Bortles & Audi: The stage is set for this rookie hometown hero to quarterback the struggling Jacksonville Jaguars out of obscurity and Audi of Jacksonville into huge sales. The local Audi dealership has signed the QB to an endorsement deal in hopes he can pitch cars as well as he pitches to his fullback.
3. Mike Ditka & Result.ly: The Hall of Fame coach Iron Mike offers brands a one-of-a-kind celebrity persona that can only be duplicated on the late night skits of SNL. Coach Ditka is currently involved in a slew of ad campaigns, most notably for Pepsi, State Farm Insurance, and shopping app Result.ly.
4. Russell Wilson & Braun: Braun developed their new #FaceGreatness campaign to encourage men to find confidence and achieve their dreams no matter how unattainable others tell you they may be. Standing at a mere 5'11 with a Super Bowl under his belt, Russell Wilson's story of perseverance mirrors that of the brand's mission and provides Braun with the perfect celebrity face for their latest ad campaign.
5. Johnny Manziel & Muscle Pharm: What corporation doesn't want a piece of Johnny Football? Supplement companies continue to zero in on athletes as their primary brand ambassadors, and now Muscle Pharm has locked down this year's most talked about NFL rookie.
About CelebExperts:
CelebExperts is a leading consulting firm dedicated to demystifying the celebrity acquisition process and finding creative solutions to effectively market your brand leveraging the power of celebrity. For more information on how your brand could leverage a professional athlete or any other celebrity talent, please contact us at consulting@celebexperts.com or give us a call at (919) 459-5426.