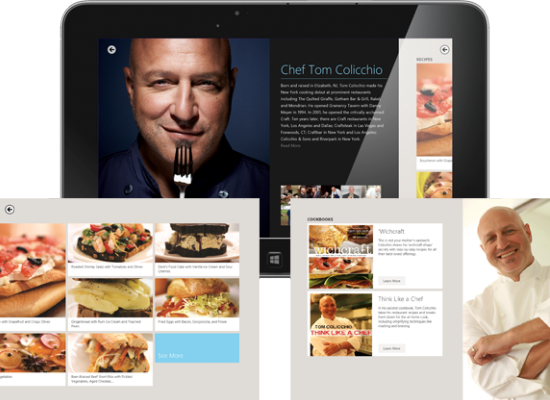 Chef Tom Colicchio and Bing Host Luncheon
Top Chef TV star, Tom Colicchio and Bing Host Lunch at Craft NYC, Explore Food + Drink app
Celebrity chef and TV star Tom Colicchio has teamed up with Microsoft's Bing to host a lunch for influential mainstream and food media in New York City at the chef's signature restaurant Craft! The centerpiece of the lunch was clearly the food but Bing's new Food + Drink app stole the show. The Food & Drink app can provide enormous benefits to cooks of every skill level, from the elite chef all the way to the home cook. What the Bing Food + Drink app can do is assist in making cooking easier by providing recipes and learning tools as well as many helpful tips and cooking lessons right from the app.
The incredibly well thought out Food + Drink app has catalogued over 1.5 million bottles of wine, 3.3 million tasting notes and thousands of drink recipes to make specific cocktails or drinks focused on a specific ingredient. The food recipes range from those for beginners to advanced cooks with images, instructions and ingredient lists. There is no question that technology has changed the way we access information, recipes and images in our own home, but Bing has turned it into an art form.  The Food + Drink app is both stunning and useful.
Chef Tom Colicchio has his own Chef "pano" with recipes and information including a 360 degree image of his restaurant on the Bing Food and Drink app.  There are many other celebrity chefs who are involved with the Food + Drink app including iconic Chef Wolfgang Puck, Chef Marcus Samuelsson and Chef Daniel Boulud to name a few.