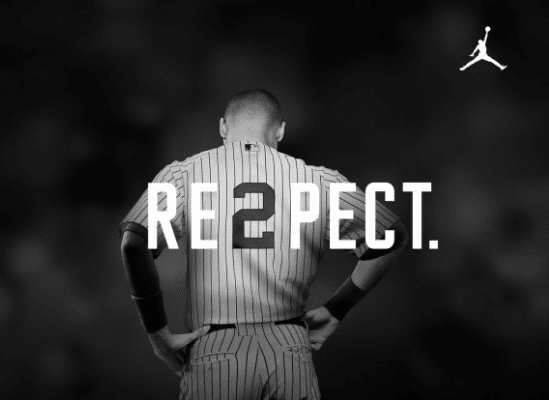 Derek Jeter and Jordan Brand
With Derek Jeter goes the end of an era!
In a recent Nike Jordan brand commercial called Re2pect, it is clear that Derek Jeter (any New Yorker can hear the echoing call of his name from former Yankee announcer Bob Sheppard), is different.  No, not just because he is a 40 year old playing a boys game.  No, not because his career has spanned over one of the most harmful eras in sport's history because of the explosion of PEDs.  I think it is more tied to Jeter's steely determination to win at all costs while still respecting the opponents but more importantly the Game!
Jeter isn't tatted head to toe.  He will never include a discussion espousing his own name in 3rd person.  He will never get a DUI or be involved in a scandal.  The reason seems clear, he has unbelievable self-esteem and early on made a decision that he is part of the sum that makes up all the parts.  Not the entire part like too many of the modern era athletes seem to believe.  It is disheartening being a life-long sports fan and see how the landscape has so disintegrated. Yes, I am sounding my age (48) but it's hard to argue with facts.  The police blotter is full of DUIs, domestic abuse cases and murders in the world of sports.
Derek Jeter not only kept his nose clean, but elevated many average ball players to be better than good for the sake of something special, a championship in the Bronx.  Has there ever been a more visible icon that we know less about?  I need an ESPN 30 for 30 to truly understand the man, Derek Jeter.
Companies such as Ford, NIKE and other premier brands have affixed campaigns to Jeter in the past but it is the NIKE Re2pect campaign that seems to put a bow on who he is and what he has meant.  The diversity of celebrity standing up to congratulate Jeter is a who's who of sports pop culture for the last 20 years.  As always, Nike's agency W+K got it right.  The feel, the texture, the emotion, no one does it better than them.  It will be a sad day to turn on the Yankees and not see #2, Derek Jeter on the field or in the batter's box.  As they say, Father Time is undefeated.  I just wish for once, they were wrong!