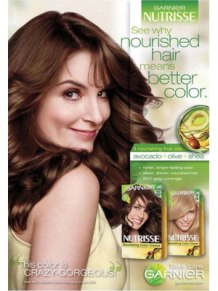 Garnier expands Celebrity Endorsement of Tina Fey!
Celebrity endorsement deals in the health and beauty industry are not a new phenomenon or even particularly unique, however, when a celebrity spokesperson extends their relationship from haircare to skincare, that is uncommon. Fey will be adding on to her role as spokesperson for Garnier's Nutrisse hair color as the face of Garnier's latest skincare line set to debut in stores this month. The original haircare deal was inked in 2011 when Fey was hired as the featured celebrity spokesperson to help focus their marketing efforts towards suburban women and moms. It is Tina Fey's "girl next door" persona which enables her to successfully represent both brands for Garnier USA.
The 2014 campaign for the skincare line will closely mirror the previous campaign for Garnier's haircare line which included TV, print and social media advertisements. Fey is contracted as the spokesperson for the entire Ultra-lift skincare line including moisturizers, serums and eye products. Previously, this category has been dominated by super models, popular socialites and movie stars known for their good looks. Garnier and Tina Fey have chosen to break the mold and bring everyday women products that they previously viewed as a more elite or expensive brand. This move instantly broadens the company's target audience and their ability to relate to that audience. Garnier products are sold by many different retailers from Walmart to supermarkets to drug stores throughout America. Most celebrity talent agents dream of the infinite possibilities or "what ifs" that are present when working in conjunction with a huge company like L'Oreal regarding expanding endorsements beyond one category. Garnier is capitalizing on Fey's previous success with the haircare line as well as helping to lead the change of face in the health and beauty industry.
But this rarely happens; and it rarely happens for a few reasons. One, which occurs many times is "celebrity fatigue", a term we coined to express the public's lack of enthusiasm for seeing a celebrity association with a product, brand or service. Other reasons include the involvement of Brand Managers, usually MBA's, who experience a high turnover rate to new brands every 6 months in companies the size of L'Oreal.  So a celebrity's champion at the time of signing an endorsement goes away.  If that new Brand Manager fails to acknowledge the upside of their visibility and ultimately the trending sales data they are crunching from their retail partners, the celebrity is gone!
To have Tina Fey expand her role to a multiple category endorsement is an incredible statement of her marketing longevity and connectivity with the core consumer and their willingness to believe she authentically utilizes Garnier's hair and skincare products. Consumers are really buying into the belief that utilizing these products will work for them as well. Tina Fey is well on her way to becoming as big on Madison Avenue as she is on Main Street in any town in America!