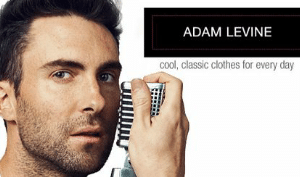 How Hot is Maroon 5's Adam Levine?
Judge on NBC's The Voice launches Women's clothing line with Kmart!
Can Adam Levine do no wrong? Kmart doesn't seem to think so! After the launch of his very successful menswear line in the fall, Adam's new summer collection for women is generating major buzz for the nationwide retailer.  Kmart, complete with other celebrity product lines such as the Kardashian's clothing and design collections, has become the retailer du jour for celebrities wanting to extend their brand.  Yet no one is extending their brand further than the lead songwriter and front man for the multi-platinum selling band Maroon 5, Adam Levine. It's not hard to understand the corporate interest in Levine given his People Magazine title of Sexiest Man Alive for 2013, his successful run as a coach on the NBC Juggernaut TV series, The Voice, and his many other accolades.
But does Mr. Levine truly have the trendy eye and fashion sense to design and create a successful women's wear line?  Only time will tell, but the opportunity brings together a corporate partner who has a tremendous amount of marketing capacity for a line such as this, the retail locations to make it easily available, and the relevancy that only a superstar like Adam Levine possesses. These factors could make the line a hot commodity for women looking to complete their Summer wardrobe. Adam's affordable collection will retail with items for $30 or less and feature bright summer colors and energetic patterns. The collection ranges from jean and twill shorts to crop tops and painted t-shirts, while the patterned summer dresses for the casual consumer wanting to look attractive yet age appropriate are sure to be a hit! If Levine's experience with his wildly successful menswear line is any indication, the women's line should fly off the shelves.
Kmart is planning an entire compliment of TV, print and social media activations to call attention to the line, its availability and price points. At $30 or less, Kmart is banking on the 15-25 year old customer falling in love with the design and the quality of manufacture. Levine's explanation of why he will be a great women's clothing designer has some merit, "I can't read music but I can play! So I don't really give a shit about formal training or going to school", said Levine! This type of irreverence plays well with the rebel in everyone. "You don't have to be trained in everything to be good at it," he stated.
Let's hope for the sake of Kmart share-holders he is right. After a series of missteps and mistakes, Kmart needs to get back on track with a productive summer leading into the back to school rush and huge 4th quarter Holiday season. If Levine is right and the gamble works, rest assured Kmart will open its doors (and bank account) to Levine expanding and extending this line to shoes, accessories, and other categories. If the line is a success, the sky is the limit for a star like Adam Levine; all you have to do is sell, sell, sell!