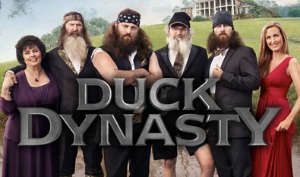 The Emergence of the Reality Star!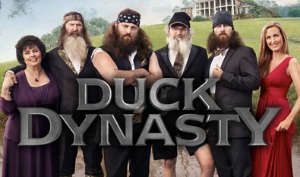 Duck Dynasty draws a bigger audience on its season finale than either CBS' Two and a Half Men, Hawaii Five-O or How I Met Your Mother does on their big splashy network shows! This should surprise no one! Reality TV shows such as Duck Dynasty, Storage Wars, Survivor, The Amazing Race and Chopped have killed traditional television programming.
Network executes are scrambling to re-establish network tv as the place for advertisers to go for advertisers who are leaving in droves for cable programming they can own! Speaking of OWN, their tie-ins with major corporate sponsors such as P+G have provided brand exposure and activation that network television doesn't inside the scripted format.
One of the fastest growing business segments of apparel behemoth Under Armour is the outdoor recreational division headed up by the line endorsed and designed by the Duck Dynasty crew! Every episode has various members of the family strutting a new logoed piece of their line with the ubiquitous UA logo prominently displayed!
The possibilities for American Pickers to market Mercedes Benz as an example, who manufacturers their truck that they go coast to coast scouring the country for trinkets, antiques and one of a kind finds is huge. Or maybe the contestants on Chopped exclusively utilizing William-Sonoma cook ware and utensils.
The tie-ins are endless and the cable industry is the benefactor of network tv's woes! The Robertsons have cashed in on their wildly popular show because as rednecky as they seem, they are a family no different than the Brady Bunch, the Cosby's or the Kardashians. Family, no matter how quirky or unconventional, sells. Everyone has a crazy Uncle Si. So enjoy the Duck Dynastys of your leisure TV watching because just like your youth, nothing lasts forever!