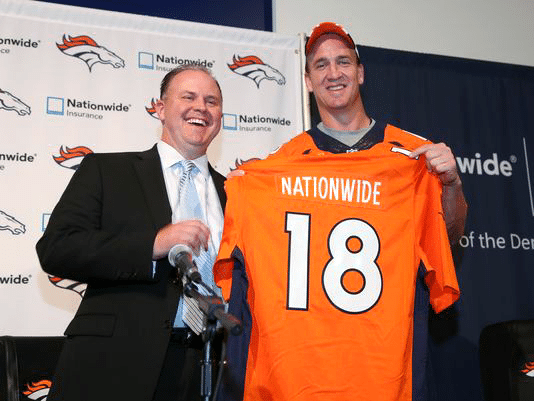 Nationwide Is On Peyton Manning's Side!
The NFL's top celebrity athlete spokesperson adds another notch to his belt by signing a 5 year deal with the Columbus, Ohio based insurance company that is continuing to expand its investment in sports marketing significantly. Already the title sponsor of the Nationwide series in NASCAR, the company leverages its endorsement with racing's biggest star and one of the top 5 spokespeople in all of American sports, Dale Earnhardt, Jr.
Nationwide has a history of investing in multi-platform activations of its celebrity pitchmen including a full run of TV ads, print and digital assets utilized to take advantage of the huge fan bases of its spokespeople. Nationwide had previously been tied to Demarcus Ware formerly of the Dallas Cowboys but when he signed with the Denver Broncos, his contract was pulled and Peyton was hired as Nationwide's newest spokesperson.
The insurance category has become a fertile ground for sports marketers to ply their wares. Allstate, GEICO, Mutual of Omaha, Aflac, State Farm and others have huge investments in sports from league sponsorships to athlete endorsements:
Allstate: Allstate Sugar Bowl, US Olympic Committee, Brickyard 400
GEICO: Bassmasters, Casey Mears/NASCAR
Mutual of Omaha: USA Swimming, Ryan Lochte, Fred Funk and Ian Pulter/PGA
Aflac: Carl Edwards/NASCAR, PGA Tour
State Farm: NBA, Chris Paul
Nationwide Insurance is in a category with a lot of clutter so what did they do? They went out and signed one of the 2 most marketable athletes in the US paired with the other top athlete spokesperson in NASCAR's golden boy Dale Earnhardt, Jr. And as not to forget their elders, Nationwide Insurance has a long term deal with PGA golf icon, Jack Nicklaus. What is very interesting is most of the insurance companies' sports sponsorships are male dominated.  The concept is that insurance and things associated with the protection of the family assets is more male focused.  While this must be backed up by substantial analytics, the decision making process in traditionally male dominated areas is changing and you can expect for these types of companies along with Progressive and others to go after the likes of Danica Patrick, Kerri Walsh and Alex Morgan.