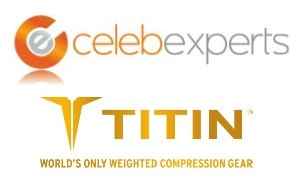 TITIN partners with CelebExperts
Revolutionary Training gear brand TITIN partners with CelebExperts to leverage celebrity endorsements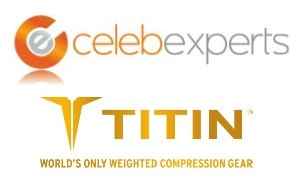 Cary, NC, May 19,2014— TITIN, creator of the world's first and only weighted compression gear, has partnered with celebrity consulting firm CelebExperts to help better leverage the company's pre-existing celebrity endorsement deals while also developing a new athlete acquisition model. CelebExperts has emerged as an industry leader in the niche space of celebrity talent acquisition and the company brings over 30 years of industry knowledge and experience to help build the marketing reach of this ingenuitive new training system through celebrity brand ambassadors.
Since founding TITIN in 2010, President and CEO Patrick Whaley has sought to redefine the way athletes train through the development of weighted compression gear and he is excited to increase visibility and brand awareness through this new relationship with CelebExperts. "I'm not only excited to bring global awareness to TITIN, but I'm also looking forward to the new paths paved through this relationship," said Whaley. "TITIN is on the rise and what better way to capture this ascension than through another young company hungry to do the same."
TITIN is on the cusp of transforming their brand from new start-up company to one of the world's "go-to" training systems and recently secured their first professional athlete endorsement deal with the Jacksonville Jaguars' safety Jonathan Cyprien. CelebExperts will focus on evaluating the company's existing relationships, building and executing a strategy that best leverages these relationships to increase market visibility, and explore new endorsement opportunities with brand ambassadors from the major sports including NFL, NBA, MLB, MLS and the Olympics.
"TITIN is innovating in the training space at a level that few companies are at this point. In the marketplace for unique workout products to maximize an athlete's opportunity in their chosen field of play, TITIN stands alone. CelebExperts has the blended experience in talent acquisition and leveraging a celebrity to assist TITIN in building an elite team of great athletes," said CelebExperts President and CEO Evan Morgenstein. CelebExperts specializes in corporate consulting for an array of companies including Fortune 50 and small emerging businesses looking to procure celebrity talent for endorsements, licensing deals, spokesperson opportunities and trade show appearances.
About TITIN: Founded in 2010, TITIN Tech has introduced a revolutionary new training system that has been proven to increase speed, strength and endurance. The weighted compression gear is designed to evenly distribute weight across an athlete's body, but does not interfere with their natural movement. For more information about TITIN™ please visit www.titintech.com or call (813)421-3827.
About CelebExperts: CelebExperts is an industry-leading celebrity consulting agency dedicated to helping everyone from Fortune 500 companies to small businesses procure the perfect celebrity talent for their event, trade show or endorsement deal. For more information about CelebExperts please visit www.celebexperts.com or call (919)459-5426.
###