Olympic Icons Are Always Crowd Pleasers!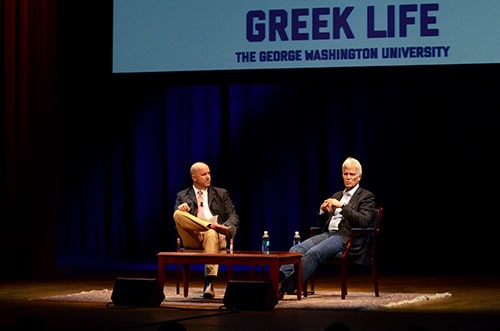 Whether it is Olympic icon Mark Spitz shown above at a speaking engagement this week at George Washington University or multiple Olympic Gold medalist, Nastia Liukin on Dancing With The Stars, Olympic greatness never dies.
Very much like being a Super Bowl champion, Daytona 500 winner or a World Series MVP, once you win Olympic gold, you go down in the pantheon of greats with your head on the Mt. Rushmore of iconic winners!  Now not all Olympic gold medalists are created equal unfortunately.
Can you name any two US Olympic gold medalist in women's Water polo? OK, how about one? Can you name the last male Olympic gold medalist from the USA in Freestyle aerials? OK, here is an easy one, name the last US Olympic gold medalist team in the 4 x 100m men's or women's freestyle relay?
Escapes you?  You are not alone.  It not only takes epic performances but the Gods at NBC have to be aligned so you are getting the prime time coverage necessary to be an icon.  Add some intrigue, a great back-story and some type of emotional journey that is universally understood and you have Olympic folklore!
Mary Lou Retton, Carl Lewis, Picabo Street, Dan Jansen, Apolo Ohno, Greg Louganis, Shawn White, Mike Eruzione, Jim Craig, Shawn Johnson, Kerri Walsh and so few others stand out in our collective sports memory.
Most Americans still believe that Olympic athletes are not professional athletes and do not get paid.  That is nirvana for brand marketers such as TD Ameritrade, Citi, Coca-Cola, VISA and many other Olympic sponsors.  But it also true for non-Olympic sponsors who utilize the Olympic athletes to demonstrate the benefits of their products. Corporate America loves the Olympics.  It is viewed as pure vs. some of the insanity going on in the major ball and stick sports!  Widespread PED usage, domestic violence and just general bad behavior is not something the Olympics are known for.
There are always break out names that you remember on a Games by Games basis tied to their epic performance, Ryan Lochte, Sage Kotsenburg, Alyson Felix, Danny Kass, Shani Davis and many others.  But are they iconic and will corporate America hire them 20 years after their best day in their chosen sport?  Isn't that the true test of an Icon? Only time will tell!
Corporations and brands are making tens of millions of dollars in investments right now for the Rio 2016 Olympic Games.  They are not just looking for the next Michael Phelps or Gabby Douglas, they are also searching for former athletes who's brand identification is pristine and beyond reproach.  Every young Olympic athlete owes these icons a debt of gratitude because the Olympic brand was built on their sweat, sacrifice and success!
About CelebExperts
CelebExperts is a leading consulting firm dedicated to demystifying the celebrity acquisition process and finding creative solutions to effectively market your brand leveraging the power of a celebrity. For more information on how your brand could utilize a celebrity talent as a spokesperson or for any upcoming marketing campaigns please contact our team at consulting@celebexperts.com or give us a call at (919)459-5426.