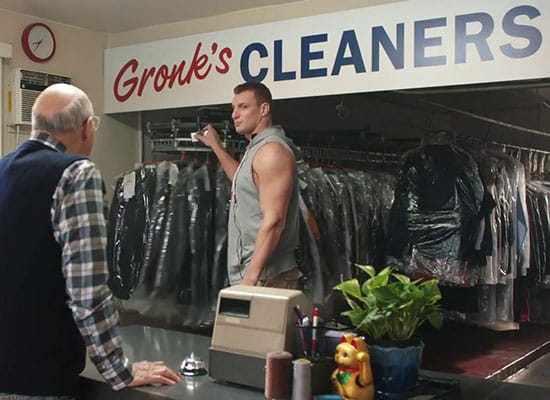 Is Rob Gronkowski Madison Avenue's New Shaquille O'Neal?
Before you scream at me and say I am crazy, think about it… big men, boyish charm, moms and women love them, not sex symbols, dudes want to hang with them, the face of their sport in one way or another, geographically desirable, great family back stories (Shaq and his parents/dad who was ex-military and Gronk who does everything with his brothers who are his crew) and last but not least they are actually identified by one word: Gronk and Shaq. I call this the Cher effect! Basically if you can get away with being famous using some derivative of your entire name, you are big!
Shaq laid the groundwork for Gronk in many ways. TV, movies, animation, commercials, PR campaigns, appearances, etc. But the difference is that Gronk has the benefit of social media during his playing days whereas Shaq did not. Having said that, Shaq still has a massive social audience:
Instagram: Shaq: 9.2 mil followers, Gronk: 2.7 mil followers
Facebook: Shaq: 6+ million Likes, Gronk: 1.5 million Likes
In all likelihood, Shaq has a much higher female reach than Gronk. Yet Gronk's fan base is ever growing and still has a lot of time to build. Shaq has exploded on the endorsement scene probably elevating his game to that of someone like the late great Arnold Palmer not just a basketball legend like Michael Jordan. While no one will ever have a deal like the Air Jordan/NIKE deal from a revenue standpoint, the shear volume of national TV commercials is staggering for Shaq. His most recent commercial campaigns include Dollar General, Gold Bond, Icy Hot, and Carnival Cruise line who named him the Director of Fun, or something like that, and several others.
Shaq is a combination of the guy next door with the guy you want to to hang out with because it would be just so much damn fun! Gronk has so many of the same personality traits from his stage dancing at concerts, to going shark hunting during Shark Week, to appearing on Shark Tank with his brothers to score a deal for their ice shaker bottle company the family started which ties into the "always having fun" persona he and his brothers have!
Gronk has deals with Nike, Dunkin Donuts and now Tide. Yep, that Tide. The detergent company. This type of cross over status is rare and speaks volumes about Gronk's likeability. Not unlike Shaq's likeability, Gronk is now the national spokesperson to moms and that should only be the beginning. Several years ago my agency CelebExperts brokered a deal between Costco and Gronk to create video content around the Super Bowl for their store branded baby diaper. Sounds odd? Costco was looking for wide spread video consumption of their content. We presented a number of names both male and female. The client choose Gronk. And to their complete happiness, the content performed incredibly. The video content was watched by over 350,000 individuals in less than 5 days. A huge uptick from what their in-house team were able to generate.
So when you are thinking of the future and CPGs, technology, apparel, signature lines in food and drink, just think Gronk and never forget about Shaq. These two massive men deliver huge audiences of the right demographic and companies can't get enough of them both!
Creating something that's never been done before, taking the proper steps to execute it, and finally seeing that vision come to life is what drives me to be great every day. If you would like to discuss celebrity acquisition for your next traditional marketing campaign or social media marketing initiative, email me today at evan@celebexperts.com or call (919) 332-0584.