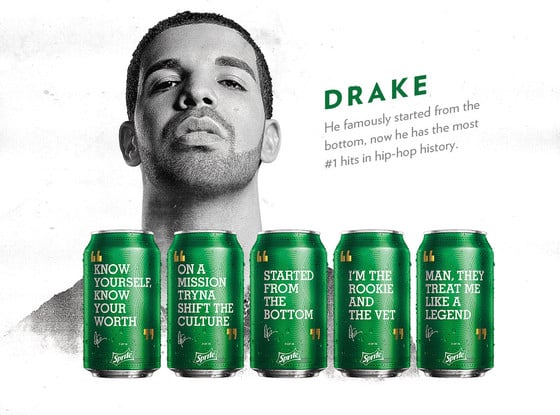 CelebExperts Sees Massive Increase In Celebrity Driven Marketing Campaigns In June
Drake rocks the mic in creative new TV and digital advertisements for Sprite resulting in one of the hottest marketing campaigns of the summer!
The exciting arrival of sunny, summer days gave way to a slew of creative new marketing campaigns featuring celebrity spokespeople in June. CelebExperts a respected corporate consulting and celebrity acquisition agency, assessed each celebrity endorsement deal executed to uncover the most impactful celebrity marketing campaigns on display this month. June proved to be the most active month to date for marketing campaigns featuring a celebrity spokesperson in 2015.
The success of a celebrity spokesperson and the subsequent rollout of a celebrity marketing strategy boils down to 2 simple factors: influence and authenticity. Successful brands look to align with celebrities with global influence or related influence in their industry/core demographic. They are also hoping to employ the help of a celebrity spokesperson who can authentically articulate a desired message. These 2 factors alone can often predict the success of future celebrity marketing campaigns.
CelebExperts CEO Evan Morgenstein concluded, "Marketers are sticking with names that move the cash register! Drake, Pele, Selena Gomez and newly minted Triple Crown winner American Pharoah cut through the clutter, tell the brand story and compel consumers to make a decision."
Below are the top 5 celebrity endorsement deals executed during the month of June:
Drake & Sprite: Sprite plans to stay fresh this summer with special marketing campaigns starring the biggest act in hip-hop. Drake's global influence matches that of the Coca-Cola Company and its iconic citrus refreshment. Drake is one of several legendary hip-hop artists including Rakim, The Notorious B.I.G. and NAS whose lyrics will appear on limited edition Sprite cans in the next few months.
Selena Gomez & Pantene: This major health & beauty brand is making a play for millennials in their latest celebrity marketing campaign with 22-year-old entertainer Selena Gomez. Selena is a non-controversial celebrity figure whose authentic persona is a marketer's dream. Her core demographic represents a new breed of young, confident women who could benefit from Pantene products.
American Pharoah & Monster Energy: When it comes to lucrative endorsement deals, Monster Energy isn't horsing around. Monster inked a deal with the owners of the first Triple Crown winner in 38 years prior to the Belmont Stakes. This record setting horse let his performance and the Monster energy logo on his racing gear do all the talking. Now everyone will see that recognizable Monster logo in replays for years to come!
Dwyane Wade & NAKED Underwear: Fashion-forward NBA superstar Dwyane Wade will be a perfect fit as the new brand ambassador for this up-and-coming underwear line. NAKED is poised to become a household name thanks to Dwyane's celebrity influence and wide reputation for trendy fashion choices. Dwyane will also serve as a creative director for his own signature line of NAKED underwear debuting in 2016.
Pele & YipTV: YipTV is kickin' it old-school, hiring soccer legend Pele as the company's first ever global brand ambassador. The greatest soccer player of all-time will help promote their service that provides live-channel broadcasts from around the world to multi-lingual consumers in the United States. Pele is now the familiar face of a brand that delivers a little piece of home to U.S. multi-lingual consumers.
Honorable Mentions: Missy Franklin & Speedo, Alex Morgan & Nationwide Insurance, Vanessa Lachey & The Original Brand Popsicle.
About CelebExperts
CelebExperts is a leading consulting firm dedicated to demystifying the celebrity acquisition process and finding creative solutions to effectively market your brand leveraging the power of a celebrity. For more information on how your brand could utilize a celebrity talent as a spokesperson or for any upcoming marketing campaigns please contact our team at consulting(at)celebexperts(dot)com or give us a call at (919)459-5426.