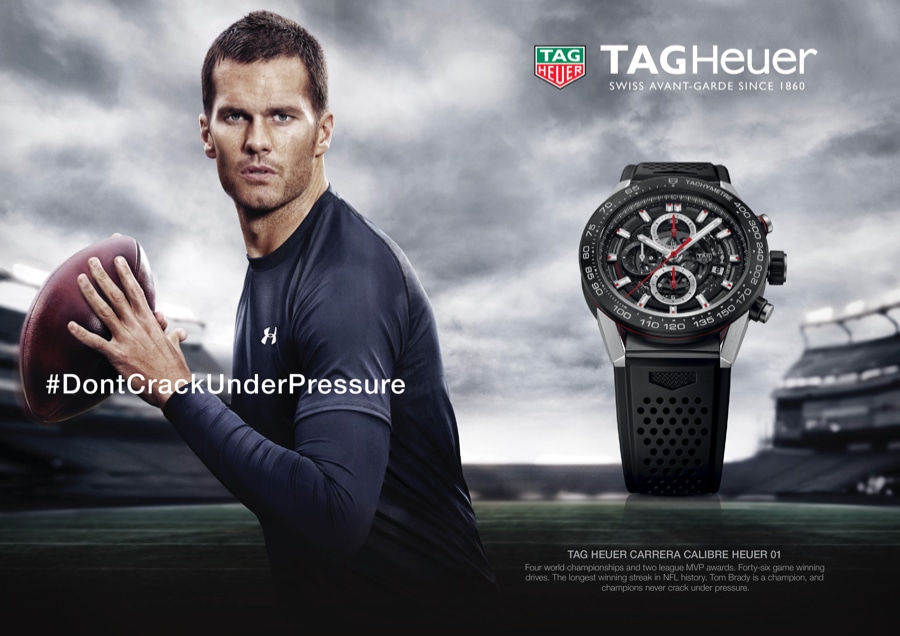 What Time Is It? It's Tom Brady Time!
Tag Heuer, one of the world's premiere time piece and watch manufacturers has added a pretty special piece to their brand ambassador program by signing the all-time great NFL quarterback, Tom Brady. Brady embodies a cool swagger of excellence and success. There is no question that Brady resembles the core consumer of Tag Heuer. More importantly, he expands their marketing presence in the U.S. where competitors such as Citizen are signing up athlete spokespeople to represent their brand including Nascar's Matt Kenseth, NFL's Eli Manning, Country music star Kelly Clarkson and global tennis star Victoria Azarenka.
Brady joins Tag Heuer's elite list of global brand ambassadors including tennis icon and marketing machine Maria Sharapova, global soccer star Christiano Ronaldo and music genius David Guetta. Tag Heuer is also the title sponsor of the McLaren F-1 racing team.
Brady attended a secret launch party hosted by supermodel Molly Simms and also attended by DJ Eve and others to announce his association with the company and their new Carrera-Heuer 01 line which is shock resistant amongst many other attributes. Will Brady help sell more watches? Only time will tell. You can generally assume a bump in sales in the New England region, but Brady has really elevated his stature beyond just being a football player. He and his iconic model wife, Gisele Bundchen are jet setters who vacation in the most luxurious places and spare no expense to go where they want to go.
Brady certainly adds a level of sophistication that most athletes have not and cannot achieve. For that alone, Brady seems to be a terrific fit for the brand. As the Patriots are undefeated and the cloud of "deflategate" seems like a million seasons ago, Brady has emerged almost unscathed as he engineers his team to a head on collision with another Super Bowl!
For more information on hiring global brand ambassadors for your company or organization, please contact our team at consulting@celebexperts.com or give us a call at (919)459-5426.