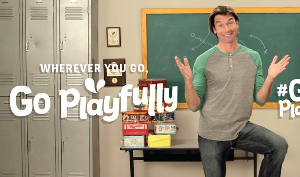 The Emergence of the Celebrity Dad!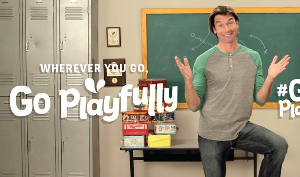 Is hiring a Celebrity Dad vs. a Celebrity Mom a good decision?  For Fifty years marketers trying to encourage women to buy their products and identify with their brands have hired Celebrity moms to be their spokespeople, influencing the influencer in the home, the mom.  But with the changing demographics of buyers, the number of stay-at-home dads that are currently out there and the fact that dads are the fastest growing consumer at supermarkets due to most extending their hours of operation to at least 9:00 pm, it only makes sense for a Celebrity dad to be hired to be a spokesperson!
Case in point: GoGo Squeez who hired Celebrity dad Jerry O'Connell who is married to model and actress, Rebecca Romijn.  GoGo Squeez is a market leader in the category of food healthy products delivered in a pouch vs. traditional packaging.   The pouch is easy for kids to handle and dispense the food.  GoGo Squeez did a nationwide survey to discover the state of "playfulness" in the US.   GoGo Squeez recognized that playfulness as part of a child's early development is very important.
What are the goals of hiring a celebrity dad like Jerry O'Connell?  Although GoGo Squeez never defines publicly why they booked Celebrity Dad Jerry O'Connell, we are quite sure it has to do with him being a father, an actor and having a celebrity wife.   The program is tied to a non-profit called the Life Is Good Foundation which provides training and support to childcare professionals to ensure children are safe, healthy, happy, and that they have fun!
This data driven program assesses the deficit of children not having locations to play and the time to be playful; worthy objectives for sure.  Other Celebrity dads that have been hired for programs in the past have spoken directly to the dad, but in this case Jerry O'Connell was hired because he was unique in that he represents both moms and dads. When a company is creating a public awareness campaign, PR event, celebrity endorsement, re-branding of a long standing product or service it is good to know your objectives when you are booking a celebrity spokesperson that is an actor, athlete, reality TV star, TV show host, celebrity chef or anyone else that speaks to your target audience.