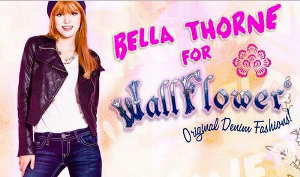 Bella Thorne and Wallflower Jeans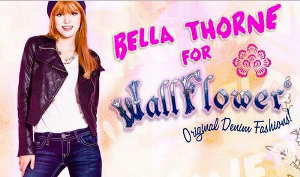 Disney Channel star Bella Thorne has been signed on as a new celebrity spokesperson for Wallflower Jeans' marketing campaign beginning in the fall of 2013. Thorne's young and vibrant style coupled with her independent and unconquerable spirit makes her the perfect role model and spokesperson for Wallflower Jeans. The fiery redhead, who earlier this spring confirmed her role in the new Adam Sandler and Drew Barrymore romantic comedy, has experienced quite the explosive career and with 4.3 million twitter fans, brands are starting to take notice.
Thorne, who made her way onto several hit shows such as Entourage and The O.C. before starting her work with Disney, is best known for her leading role on the hit Disney Channel series 'Shake it Up!' alongside her triple threat partner in crime, Zendaya. A far-cry from the destructive path some former Disney Channel stars have left in their wake (ahem, ahem Miley Cyrus), Thorne represents a strong, responsible young woman looking to make a positive difference in the world and her industry. The 15-year-old actress will steal the title of 'Wallflower Girl' from former brand ambassadors Sarah Hyland from Modern Family and Jenna Ushkowitz from the hit television series Glee.
Wallflowers Jeans, "an All-American Juniors brand embracing its youthful culture," offers young girls the latest trends and styles at a relatively affordable price. Their line is mostly centered around denim jeans while also branching out with tops, dresses, and handbags among other products. Wallflower Jeans' homepage depicts a stunning Thorne rocking her Wallflower ensemble that would make a teenage boy's heart skip a beat. By working with Thorne, Wallflower Jeans will now be able to deliver the brand to the Disney Channel audience- a whole new market of young, teenage and pre-teen girls. "Bellarinas" as Thorne calls them will now be bugging their parents for not just any jeans this fall… they want Bella's jeans: Wallflower.