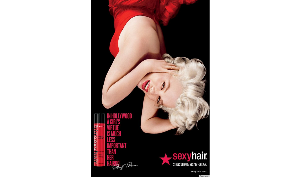 Long Live the Queen (of Diamonds)!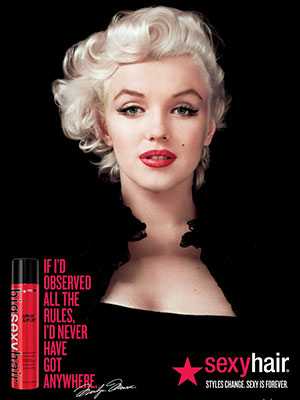 America's sweetheart and universal sex icon Marilyn Monroe has just signed on to be Sexy Hair's new celebrity spokesperson for their upcoming campaign debuting in the fall of 2013. Marilyn Monroe has been resurrected from the grave and is bringing sexy back- way back. The "Styles Change. Sexy is Forever" campaign will feature traditional print, outdoor ads and social media starring images of the timeless beauty along with some of her legendary 'Monroe-isms.'
Known as one of the fastest growing beauty care companies, Sexy Hair has been deemed a beauty essential and is favored by Hollywood leading ladies such as Uma Thurman, Jennifer Lopez, Angie Harmon and now Miss Marilyn Monroe- the woman who created sexy and gave 'curves' a good name. "Sexy Hair personifies everything Marilyn represents- beauty, glamour, class and confidence. Contemporary Marilyn would have loved to partner with a brand like Sexy Hair because they help women not only look sexy but feel sexy," said Nick Woodhouse, President and CMO of Sexy Hair.
Now, to address the questions that the majority of you are already asking yourselves—How on earth is this all possible? Who signs on the dotted line? And most importantly, can Marilyn really tweet from the beyond? Well, no, not exactly. Aligning with Hollywood tradition, like most celebrities, she has her 'people' do it. In this case, her 'people' are made up of the Authentic Brands Group and NECA (a.k.a the firms that bought the rights to her name and image including her trademarks- images of her lips and eyes back in 2010). Together they make up the 'Estate of Marilyn Monroe.' In charge of managing her social media accounts including her 157,000 twitter followers and over 7,427,350 Facebook likes, they are able to give Marilyn a voice and bring her back to life; allowing incredible brands to partner with her for endorsements, campaigns and other collaborations such as her clothing line 'Marilyn' at Macy's, ItSugar's line of Marilyn Monroe candy lips, shoes and heart gummies, and let's not forget her star cameo in the J'Adore Dior commercial with Charlize Theron.
Although Marilyn is considered 'THE' trendsetter, this strategy of leveraging deceased celebrities for endorsement opportunities and partnerships has long been utilized by other creative agencies before Marilyn's own marketing rebirth. John Lennon has deals with Montblanc and Citroen, Jimi Hendrix with Fender Musical Instruments, and Elvis Presley with Sirius XM—these departed stars and/or their estates generated $2.25 billion in North American Revenue back in 2009.The idea is, why work with just anybody, when you can work with America's sweethearts, icons and legends?
Babe Ruth said it best, "Heroes get remembered, but legends never die." Especially if there is money to be made above ground.